Tell Biden Administration: Free Pregnant Black women & babies from cages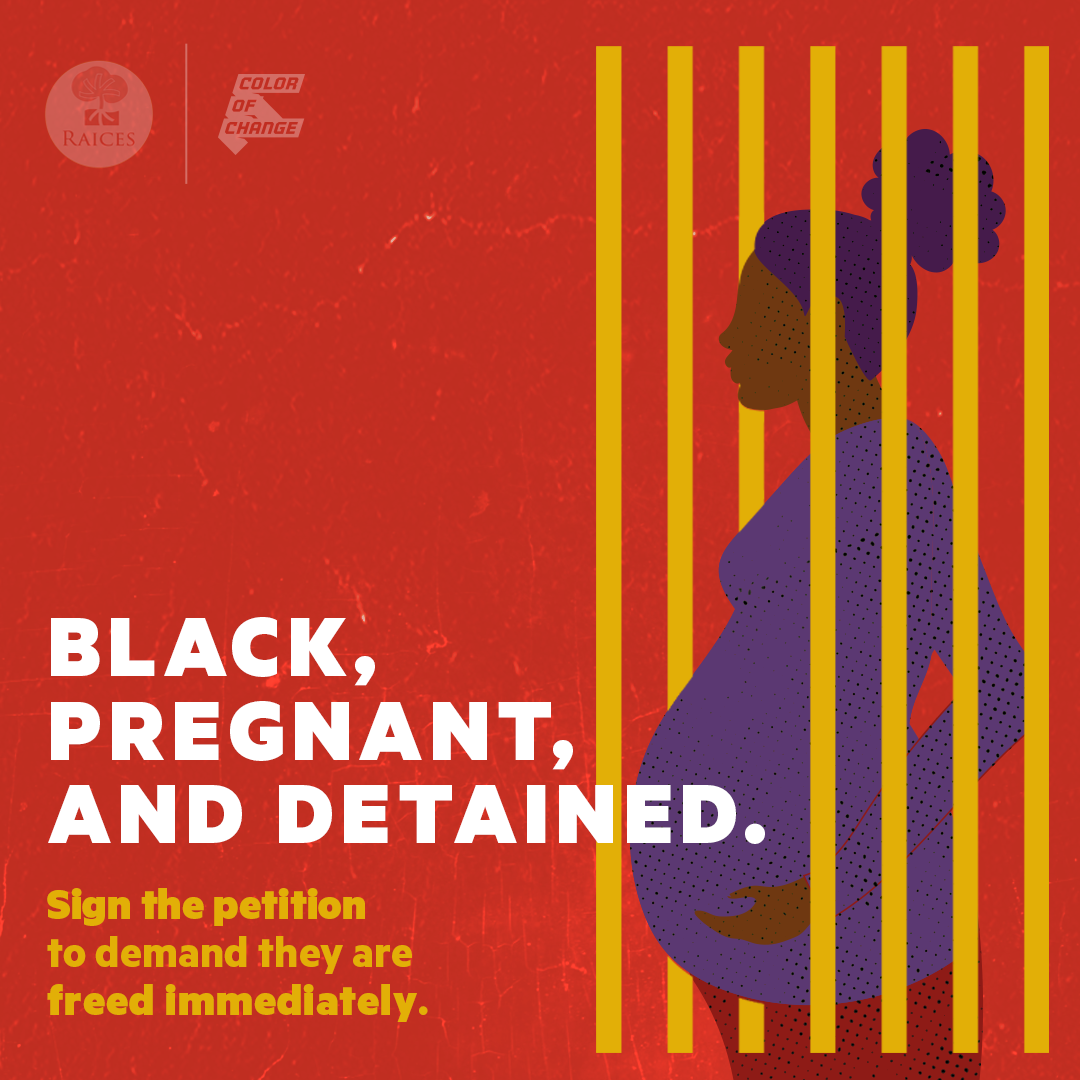 Black pregnant women and babies are currently living in horrendous conditions while locked up at Karnes, Texas family immigration prison. 
At the beginning of 2020, Karnes family prison saw a shift in its population to primarily Haitian families and families from multiple African countries including Angola, The Democratic Republic of Congo, Cameroon, Ghana, Nigeria, and Sierra Leone. At the same time, ICE lifted its ban against detaining pregnant people and infants less than 1 year of age. The result? Multiple pregnant people and babies were incarcerated just as the COVID-19 pandemic began to surge, and there were multiple confirmed cases at Karnes facility. 
Not only were Black mothers and children subjected to increased exposure to COVID-19, but there were also several reports of lacking prenatal and postpartum medical care. From prolonged detention to outright neglect, one 2-month pregnant mother with rheumatism was found unresponsive in her room. Another mother suffered a miscarriage in DHS custody but was never provided the proper follow-up medical care. A 6-month pregnant mother who reported abdominal pain, vertigo, and back pain and difficulty eating was threatened for voicing her medical needs. And these are only a few of the reported cases.  
It's no secret that Black women in America bear the brunt of racialized incarceration and violence against their reproductive autonomy. And now we're seeing how Black immigrant and migrant women are also subject to this abuse. The immigration detention system separates mothers from their families, denying them the ability to parent, mistreats pregnant people and denies access to abortion and other reproductive health care which interferes with the rights of detained people to control their reproductive lives. ICE detention centers are a barrier to reproductive justice, which disproportionately impacts Black women, women of color, women with disabilities, low-income women, transgender women, and young women and girls. 
The human rights violations taking place inside the Karnes family prison are not new nor are these violations unprecedented. Last year, we saw similar reports of medicalized racism and negligence at Irwin Detention Center in Georgia where Black women were forced to undergo medically unnecessary procedures in the middle of a global pandemic. This is a pattern. We must act now to put a stop to it. 
Immigration is a racial justice and reproductive rights issue. Black women are often forgotten in this struggle but are at the center of its abuse. This is why we need your support to bring attention to this issue and put a stop to it today.
See letter that will be sent to the Biden Administration: 
Here is the Petition:
Black pregnant people, mothers, and children are being detained and facing horrible conditions at Karnes, TX ICE facility. It's time you step up to ensure these people are treated with the dignity they deserve. One thing is clear, 

We are calling you to do the following for Black families in Karnes family prison: 

Stop the ICE practice of detaining pregnant individuals.

Stop the ICE practice of detaining infants.

Release anyone who is detained and pregnant. Release infants. Release families together. 

Stop ICE retaliation against the Black immigrants who speak out about their conditions. Release them from detention.

Provide protections for Black immigrants who are released from detention, including the Cameroonian protestors and the women who spoke up at the Irwin detention center.