Tell Governor Rick Snyder to restore Flint's water relief credits now!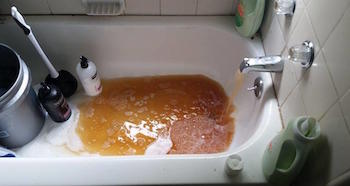 The water in Flint is still not safe to drink and Governor Rick Snyder just cut off water relief credits which cover the costs of running water in Flint, claiming that the lead in the water is at an acceptable level. Now, because the bills for the toxic water are going unpaid, tax liens are being placed on residents' property, which will force their homes into foreclosure. You read that right--Flint residents could lose their homes for not paying for water that causes birth defects, seizures, and memory loss.
Now, 8,000 Flint families are in danger of losing their homes because they won't pay for poisonous water.
Tell Governor Rick Snyder that there is no safe level of lead contamination- restore water credits to Flint now!
This is the letter we'll send to Governor Rick Snyder,
Here is the Petition:
Dear Governor Snyder,

Please restore water relief credits to Flint. Up until February, Flint residents were receiving water relief credits which were applied to their utility bills. But, you ended this program, claiming that the water is now safe to drink with an acceptable lead limit. The truth is that there no safe level of lead exposure. This latest effort to punish Black families and force them to use money they don't have to pay bills for water they can't drink is unthinkable. The city of Flint has suffered immeasurably over the past three years. Please restore water relief credits now.

Sincerely,
[Your Name]