Demand Phoenix Police Chief Williams and DA Montgomery Fire Violent Officers NOW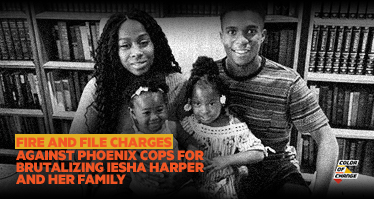 Phoenix police officers verbally threatened to murder a pregnant Black woman as she sat in her car holding her infant child in her lap. Her offense? Her 4-year-old baby allegedly walked out of a store with a 99 cent toy doll.
Within seconds of arriving on the scene and the viral video starts recording, an officer is heard shouting "I'm gonna fucking put a cap [bullet] right in your fucking head!" at Iesha Harper, the scared Black mother. The rage in their voice is palpable. Before Iesha even has a chance to react and respond, the officer is shouting that he's going to shoot and murder her! All while she is holding her infant child while struggling to open the car door. These vicious, violent officers have no place in policing Black people or any communities for that matter. The Phoenix police chief Jeri Williams and the Maricopa County District Attorney Bill Montgomery should immediately fire and file assault charges against all police officers present for their overly-aggressive use force and threatening to kill Iesha. If we can get these Phoenix officers fired from the force and criminally charged, they won't have another opportunity to abuse, threaten, and harass other Black people as police officers. By demanding the officers are fired, we are affirming our support for Black women and making it clear that we will not accept this kind of state-sponsored abuse. Chief Jeri Williams and DA Bill Montgomery should act with urgency if they value Black lives because we will continue to hold both of them accountable.
We know we have the power to get these officers charged and removed from the force because we've done it before. Just last month, the Miami police officer who violently arrested Dyma Loving, a Black woman who called the police, was criminally charged after Color Of Change members called on the DA to press charges. And we also fought and won to get Amber Guyger fired and charged with murder after she murdered Botham Jean, a Black man who simply answered his front door.
Will you join us in calling for these violent officers be fired and charged with assault for abusing this Black pregnant mother?
Here is the Petition:
Dear Phoenix Police Chief Jeri L. Williams and Maricopa County District Attorney Bill Montgomery,

I am calling on you to immediately take action to hold your violent police officers accountable for threatening to kill a pregnant Black mother, Iesha Harper, who was holding her infant child while sitting in her car. I demand that you fire and file assault charges against all of the police officers present for their overly-aggressive use of force and threatening to murder Iesha and her child.

The violent and scary video clearly shows your police officers shouting to the mother their intentions to murder her by "putting a cap in her fucking head." This is completely unacceptable, especially when there was a 1-year-old child in the path of the officers' guns. The officers took no time to explain the situation, talk to the mother, clearly state their demands, or give the mother a chance to respond to commands. The officers simply abused their power and badge to threaten a mother and her child. No one should face this kind of harm over a child who allegedly walked out of a store with a 99 cent toy doll.

These officers caused irreparable harm to both the mother and the child with the threat of murder. It is incomprehensible that trained police officers would point a gun in the face of a mother holding her child. Iesha presented no threat and tried her best to move as quickly as possible in a situation that could've turned deadly. Sadly, it has become commonplace for officers to abuse, assault, and harass Black women. Just last month, the Miami police officer who brutally assaulted Dyma Loving was criminally charged after she dialed 911 in seek of help. You must follow suit and charge these officers for posing yet another threat to Black women.  We no longer have faith in the officer's judgment to keep Black women safe and protect our communities.   

I urge you to immediately fire and charge the cops for abusing their power, violently arresting the mother and her boyfriend, and putting an infant's life in danger.

Sincerely,

[Your Name]