Detroit police are out of control. Hold them accountable for brutalizing protestors.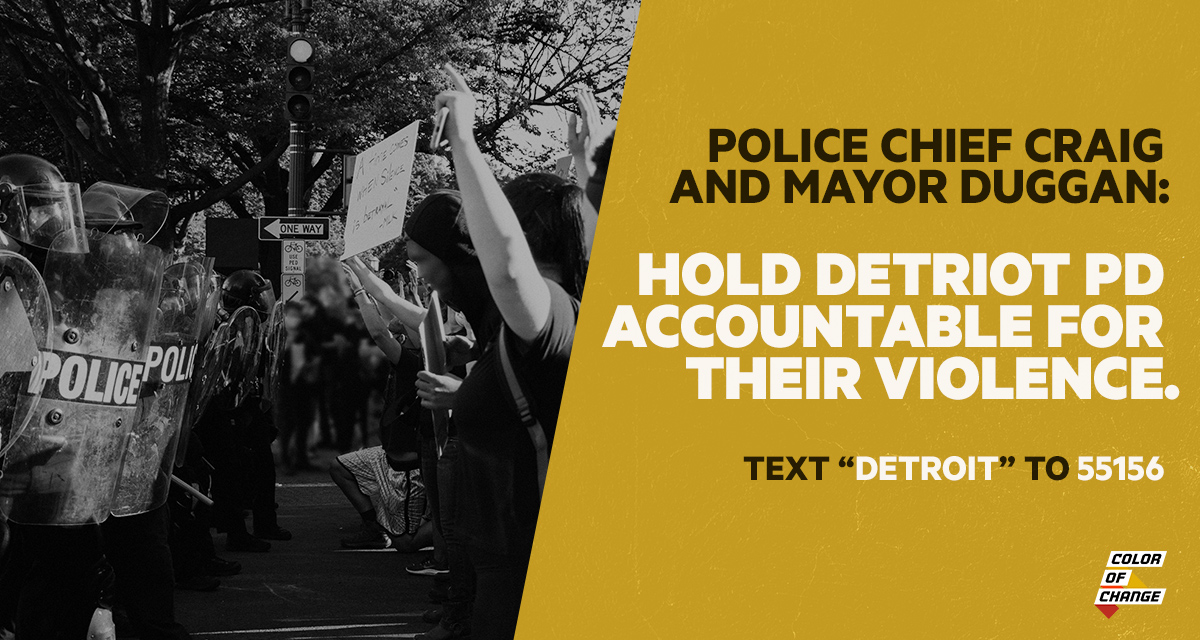 Photo Source: ABC 7 WXYZ Detroit. May 30, 2020
While protestors in Detroit rallied to put an end to police violence, the Detroit Police Department decided to ram their police SUVs into the protestors, which put their lives in danger. The officers sped off from the scene and have not been held accountable.
The horrific video of the incident was eerily reminiscent of a similar event from 2017, where a white supremacist hit and killed Heather Heyer, a protestor at an anti-racist rally in Charlottesville.
It's no secret that the Detroit Police Department is plagued by decades of abuse involving persistent brutality against Black people, scandals, and hyper-surveillance. Earlier this year, it was revealed that the Detroit PD Narcotics Unit has been running a corrupt operation targeting Black and Brown communities over a decade. The Internal Affairs' investigation found that cops planted drugs on innocent Black people, embezzled funds meant for informants, falsified evidence, and made faulty search warrants. This is just a fraction of the daily systemic violence Black people in Detroit have to endure at the hands of police. 
The Detroit Police Department was once the most deadly and notorious in the country. They lead the nation's largest cities in the rate of fatal shootings by police -- in just a five-year span from 1995-2000, they murdered 40 people. While that number has decreased, it was only due in part to the federal oversight they were placed under due to the overwhelming amount of police violence. And more recently, the city of Detroit has had to pay out tens of millions of dollars in police misconduct lawsuits due to persistent police brutality. 
Black people in Detroit need a radical transformation of our society. Our communities need policies that will get us closer to a world free of trauma from the criminal legal system and elected leaders who represent our values. Communities in Detroit all calling out for substantial investment in restorative justice centers, living-wage jobs, housing for the homeless, renovation of all DPSCD schools, and mental health and rehabilitation.
The Detroit PD's egregious behavior has been no secret -- not to the Black people affected by it, nor to the elected leaders in the city who were complicit in letting it happen. It's time for a change.
We demand a just city that works for ALL Detroiters. While this is only a fraction of the DPD's larger system-wide abuse on Black, Brown, and poor people in the city, we must continue to remind them that we have an eye on their abuses and refuse to stand by as they assault and kill us for sport. 
We're demanding that Police Chief James Craig and Mayor Mike Duggan immediately fire the officers who rammed their trucks into protestors.
Here is the Petition:
Dear Police Chief James Craig and Mayor Mike Duggan, 

I am shocked and horrified by the Detroit officers who almost killed protestors by ramming their police SUVs into them in the middle of the street. 

This abuse at the hands of your officers follows an egregious history of problems at the Detroit PD -- persistent misconduct, brutality on Black people, and police killings. I demand change and that starts with firing these officers.

I demand that the officers who rammed into protestors are immediately fired from the force. 

Sincerely, 

[Your Name]