Tell Facebook to stop fueling white nationalist hate groups!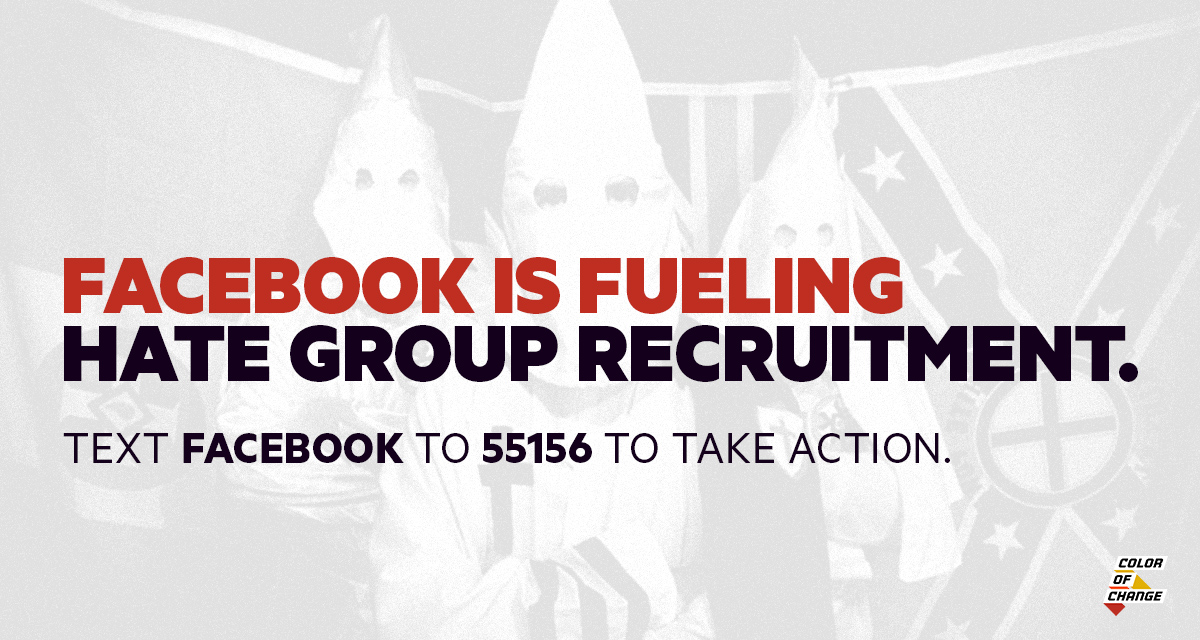 UPDATE: While demanding justice for Jacob Blake, the 29-year-old Black man in Kenosha, WI, who police recently shot in the back 7 times, paralyzing him from the waist down, an emboldened white nationalist militia member opened fire on protestors, shooting and killing two of them. This white nationalist was encouraged and emboldened to carry out such violence through a Facebook group, in which white nationalists openly discussed how they planned to violently harm protestors, with no intervention from Facebook until after the protesters were killed. Even worse, Facebook knew about the group and their calls to violence before the shooting happened and chose not to act. We cannot allow this to continue. Join us in calling on Facebook to stop fueling white nationalist hate groups.
---
Facebook is fueling hate group recruitment. Although Color Of Change has spent five years now trying to get them to combat hate, Mark Zuckerberg still has not reckoned with the ways his company elevates white nationalists and other hate groups. Facebook automatically recommends hate group pages and content to those who use the platform, indoctrinating people in white nationalist ideologies. In some cases, Facebook will even automatically create pages for new hate groups.
After the violent "Unite the Right" rally in Charlottesville, Virginia, Facebook promised to ban hate groups. But hate groups' activities have continued on--despite Facebook occasionally removing a handful of groups and hate leaders--because Facebook has not addressed the core ways their platform and policies fuel hate. 
Black people already face undue suppression, harassment, and hate on Facebook; we cannot afford for Facebook to continue to radicalize white nationalists, who, through their interactions on Facebook, frequently incite real-world violence against Black people. 
Facebook must immediately stop fueling hate group recruitment.
Below is the petition we will send to Facebook.
Here is the Petition:
Facebook: 

We have spent years now trying to get you to meaningfully combat hate on your platform to no avail. Even though you insist that you're employing strategies to combat hate groups on the platform, and you previously promised to ban hate groups from Facebook, there are still more than 100 hate groups using the platform. Not only that, but because of your algorithms, white supremacists who are using Facebook are being recommended even more white nationalist content. These problems, and Facebook's lackluster response to them, are wildly unacceptable. Allowing this kind of content to exist on the platform leads to real-world harms, such as the deadly events that took place in Charlottesville. It is imperative that you remove all hate groups, white nationalist content, and recommendations for such content from your platform.