Facebook, #DoYourJob!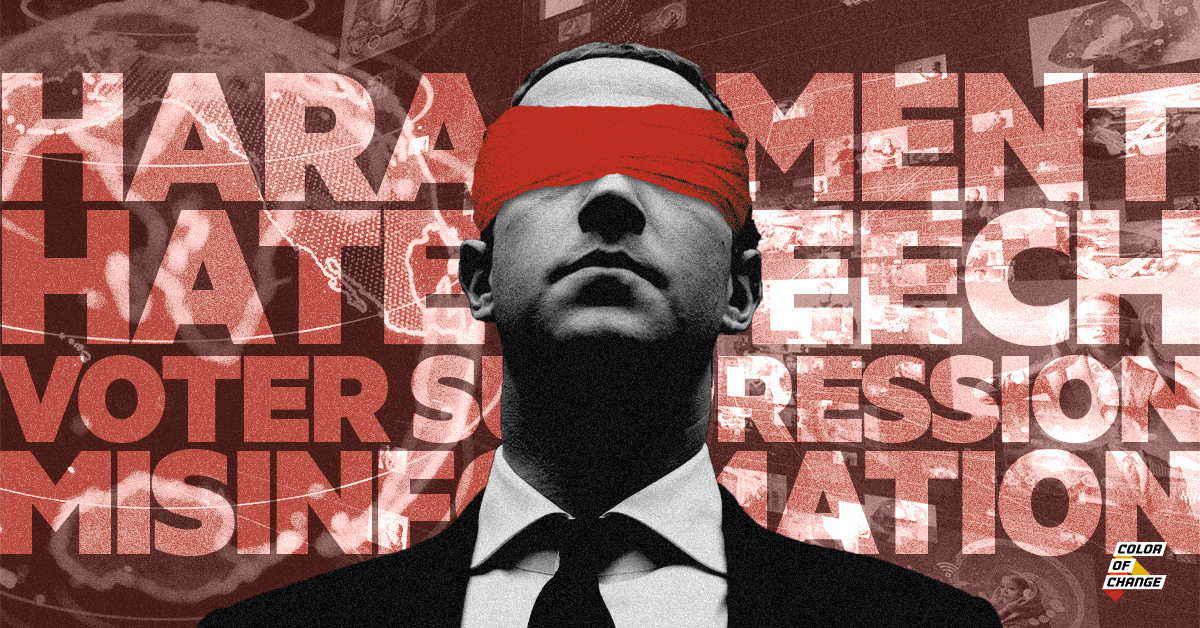 UPDATE: Facebook is already causing election chaos. In just the last few days, they've allowed ads to tens of thousands of voters in swing states telling them the wrong election date, as well as Spanish-language ads filled with misinformation and anti-Black dog whistles. Too much is at stake in this election. Facebook must do their job and make sure the platform isn't used to suppress our votes or drive right-wing violence against our communities. 
---
At every turn, Color Of Change and our allies are forced to hold Facebook accountable for the rampant hatred, calls to violence against Black people, and misinformation that goes unmoderated on the platform. But this election is one of the most important of our time, and Facebook must do their job and make sure the platform isn't used for these purposes. 
Facebook has gotten away with not doing their job for long enough. And when they don't do their job, the platform is used to commit violence against us and contribute to the destruction of our democracy. 
The stakes are too high to wait until Facebook gets around to doing the right thing. Tell Facebook #DoYourJob and ensure the platform isn't used to undermine the election. 
Below is the petition we will send to Facebook.
Here is the Petition:
Facebook: 

Our request to you is simple: we demand that you do your job. We've asked you time and time again to do the right thing and curb the spread of hatred, misinformation, and violence against Black people on your platforms. Still, you do not intervene. And with one of the most important elections of our time less than two weeks away, we can't afford to let the platform be used to undermine the election. You must: 



Ban events, groups, paid ads and organic content that incite violence

either directly, or with coded language;

Pause group recommendations

until the election results are certified; 

Demote the top 100 misinformation super-spreader groups on the platform

; 

Provide fact-checked corrections

and alert those who've been exposed to viral misinformation; 

Hire, support, and adequately train more in-house content moderators

so that we do not have to keep doing Facebook's moderation job for them; and, 

Provide resources and training to staff to stop the similar spread of viral Spanish-language disinformation, particularly disinformation that contains anti-Black and racist tropes.