Eventbrite: closed campaign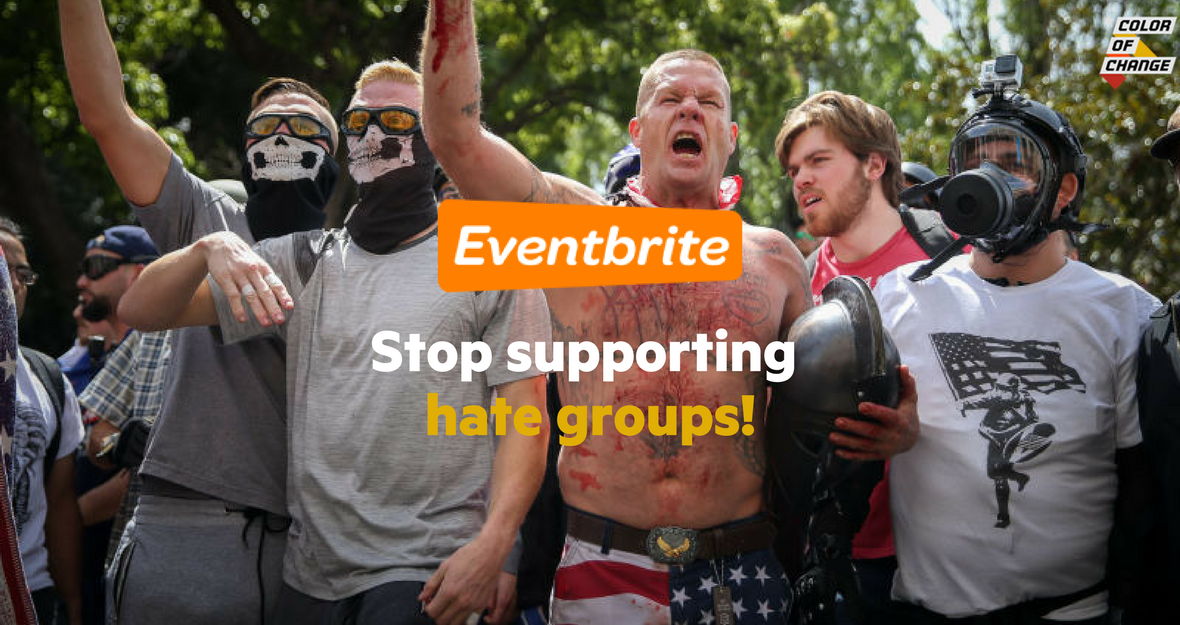 UPDATE: In August 2017, after a successful public campaign and months of conversations, Color Of Change members along with allies including the Southern Poverty Law Center and CREDO Action Network were able to successfully push Eventbrite to make sweeping changes geared towards permanently blocking hate groups and their leaders from accessing and financially benefitting from their platform. Read more about their changes here.
Eventbrite - the world's largest platform for selling event tickets - has a hate group problem. Eventbrite is making tens of thousands of dollars a year selling tickets to events hosted by hate groups and featuring enablers of white supremacy like Milo Yiannopoulos and Richard Spencer.
Just this past Saturday, white nationalists hosted a sold-out gala featuring some of the biggest names in the white nationalist movement. Tickets to the event were sold on Eventbrite for as much $1,500 each. For a similar event hosted last year by white nationalists, Eventbrite made upwards of $100,000.
Despite having this problem brought to their attention Eventbrite continues to fail to take action that ensures their platform is not used to spread and fund hate, all while CEO Julia Hartz talks openly about being a people-centered company. If Eventbrite truly cares about people, then why do they continue to promote and profit from groups and individuals whose rhetoric are explicitly tied to the recent rise in violent hate crimes?
Demand Eventbrite permanently cut white supremacists off from their platform.
To Julia Hartz, Co-Founder and President of Eventbrite:
Here is the Petition:
Eventbrite has a responsibility to ensure its platform is not being used to fund hate groups, stir up racial fears and push blatant falsehoods and distortions about Black communities. Eventbrite needs to immediately and permanently cut off white supremacists from your platform by removing any current events hosted by or in support of hate groups, to update your Terms of Service and community guidelines to prevent hate groups from using the platform and develop the resources necessary to effectively enforce the updated policies.