Energy companies must be held accountable for the effects of coronavirus on Black communities.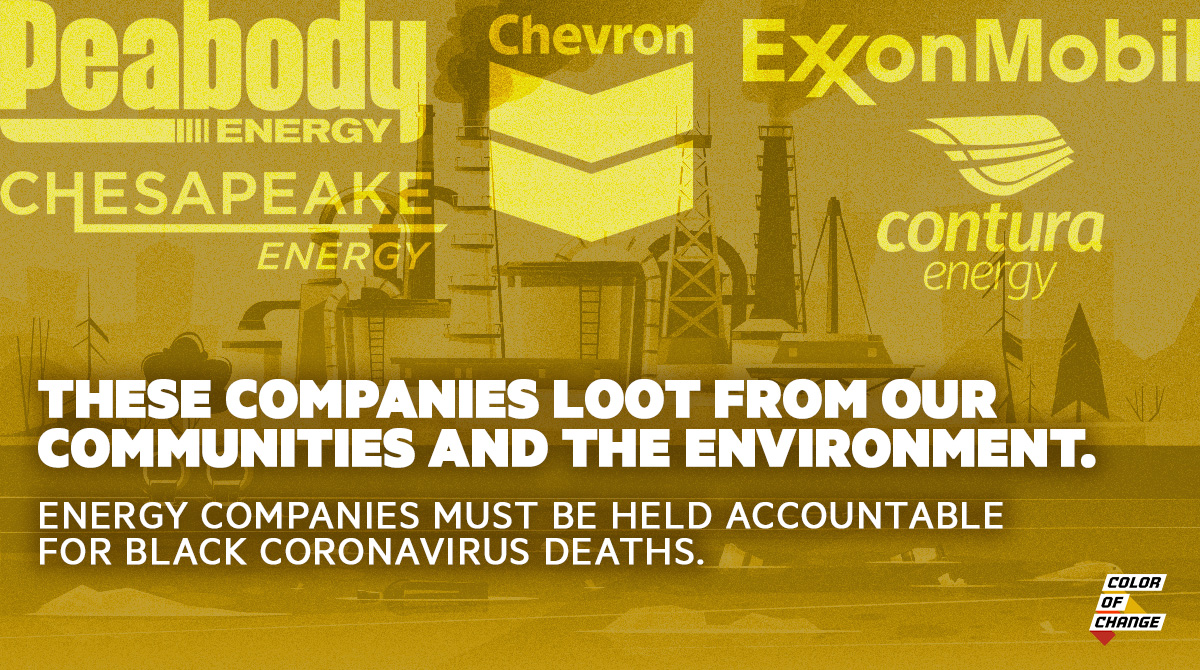 Peabody Energy, ExxonMobil, Chesapeake Energy, Chevron, and Contura Energy must correct the harm environmental racism has had on Black folk, one of the most targeted racial groups in the country, by acknowledging the varying ways their operation has polluted the very air Black people breathe. The insidious ways racism continues to attack our communities must stop. 
As protests continue in cities across the country—many of which are pollution laden—in response to the unjust murders of Breonna Taylor, George Floyd, and too many others, corporations that have sacrificed the health of Black communities for profit must stand on the right side of this moment.
Black people are confronting a pandemic within a pandemic, as racism and coronavirus continue to ravage our communities and families. Before coronavirus, air pollutants silently chipped away at the health of communities that are now faced with compound inequalities such as implicit bias in care, lack of testing sites, and predatory debt collection due to mass pandemic layoffs. 
The cracks in our democracy are confirming what we've always known: Black people have not been a priority in this country, and we cannot allow our moment for justice to be used for profit without real change. Peabody Energy, ExxonMobil, Chesapeake Energy, Chevron, and Contura Coal must be held accountable for their environmental racism which causes disproportionate effects of coronavirus on Black people.
Below is the letter we will send to energy company executives: 
Here is the Petition:
On behalf of Color Of Change Members: 

We are writing to learn how your energy corporation intends to effectively redress the proven harm of its pollutants that are gravely affecting the health of Black communities in the face of this pandemic. One-third of coronavirus deaths are Black people, yet Black people are only 13% of the U.S. population. The adverse effects of air pollutants coupled with chronic illnesses such as asthma, respiratory illness, diabetes, and heart disease in Black communities have contributed to the stark disparity in coronavirus deaths. Statistically, Black people are disproportionately affected by the coronavirus pandemic in contraction, treatment, and death.

Early findings on coronavirus deaths have shown increased mortality among Black Americans; those who've experienced long-term exposure to air pollution are two main trends. Coronavirus is not a great equalizer amongst U.S. citizens; however, it is a magnifier of inequalities. In this case, air pollutants emitting from plants have contributed to the pre-existing conditions, making coronavirus more severe for Black communities. Given the compounding effects of coronavirus and air particle pollution from your facility that have contributed to this major health deficit, it is long past time to remedy years of harm against Black communities.