Demand Congress Ends Qualified Immunity!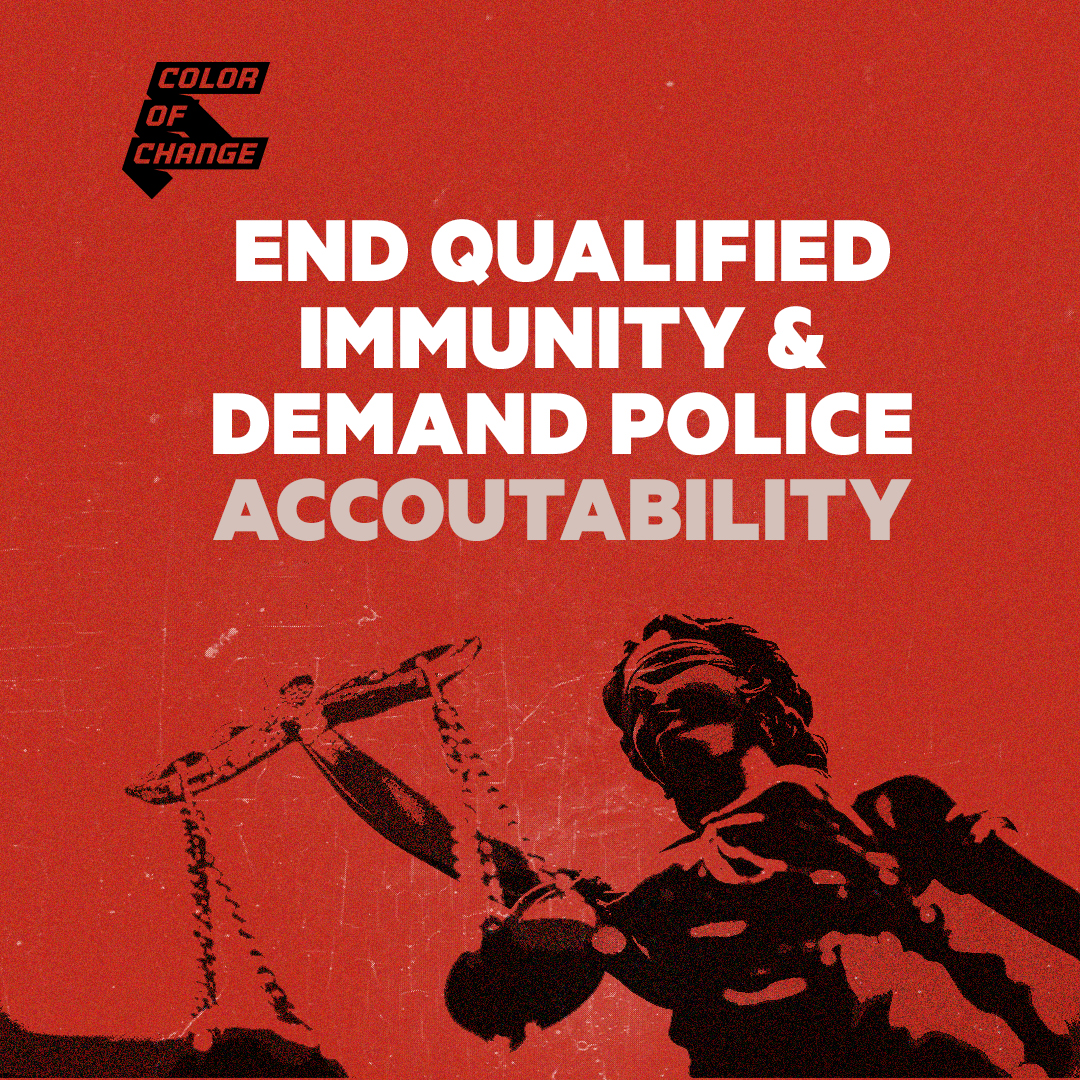 The Supreme Court created qualified immunity in the 1960s to limit civilians' right to sue police officers and other public officials for constitutional violations such as excessive force. The doctrine provides that police violence can't even be found to be criminal unless: 
The evidence demonstrates that the conduct was unlawful, and the officers should have known they were violating "clearly established" law because a prior court case had already deemed similar police actions to be illegal. 

 
Even if the court finds that a police officer used excessive force, the officer will be granted immunity from being sued if the facts don't exactly match earlier case findings that conduct was, in fact, illegal. But because a court can almost always find or make up a factual difference between the case it's reviewing and an earlier case, the "clearly established" law requirement makes it almost impossible to win a civil rights lawsuit against the police. 
In response to heinous and unjust acts of police misconduct, including the murders of George Floyd and Breonna Taylor, Representatives Ayanna Pressley and have introduced legislation to end the doctrine of qualified immunity. The legislation disrupts this institutional impediment by explicitly saying that qualified immunity is not grounds for defense when officers violate the law. 
Specifically, this bill would: 
Amend Section 1983 of the current statute to explicitly state that the qualified immunity doctrine invented by the Supreme Court does NOT provide police officers that brutalize or otherwise violate civil rights with defense or immunity from civil liability for their actions. 
 Clarify Congress' original intent for Section 1983 and note the history and necessity of this protection.
Below is the letter we will send to the Mayor of Rochester, Lovely Warren & Police Chief Cynthia Harriot-Sullivan, 
Here is the Petition:
Dear Member of Congress, 

Qualified immunity prevents individuals and their families from holding police officers accountable for the countless harms they've committed against Black people and communities of color by creating a firewall around police misconduct.  That's why I'm proud to stand in solidarity with Color Of Change, Representatives Ayanna Pressley, and Warren Markey's push to end this institutional impediment. 

White supremacy and police violence are the biggest threat to our democracy: we must confront this phenomenon of white supremacist police terror and debunk any claim that what Black people are experiencing is relative to occasional errors, or the personality of a particular police officer, or the characteristics of a particular neighborhood. We all deserve equal protection under the law and police officers who brutalize Black people must be held accountable.

Sincerely, 

[Your Name]