Tell T-Mobile: Stop Funding Far-Right Wireless Provider Patriot Mobile!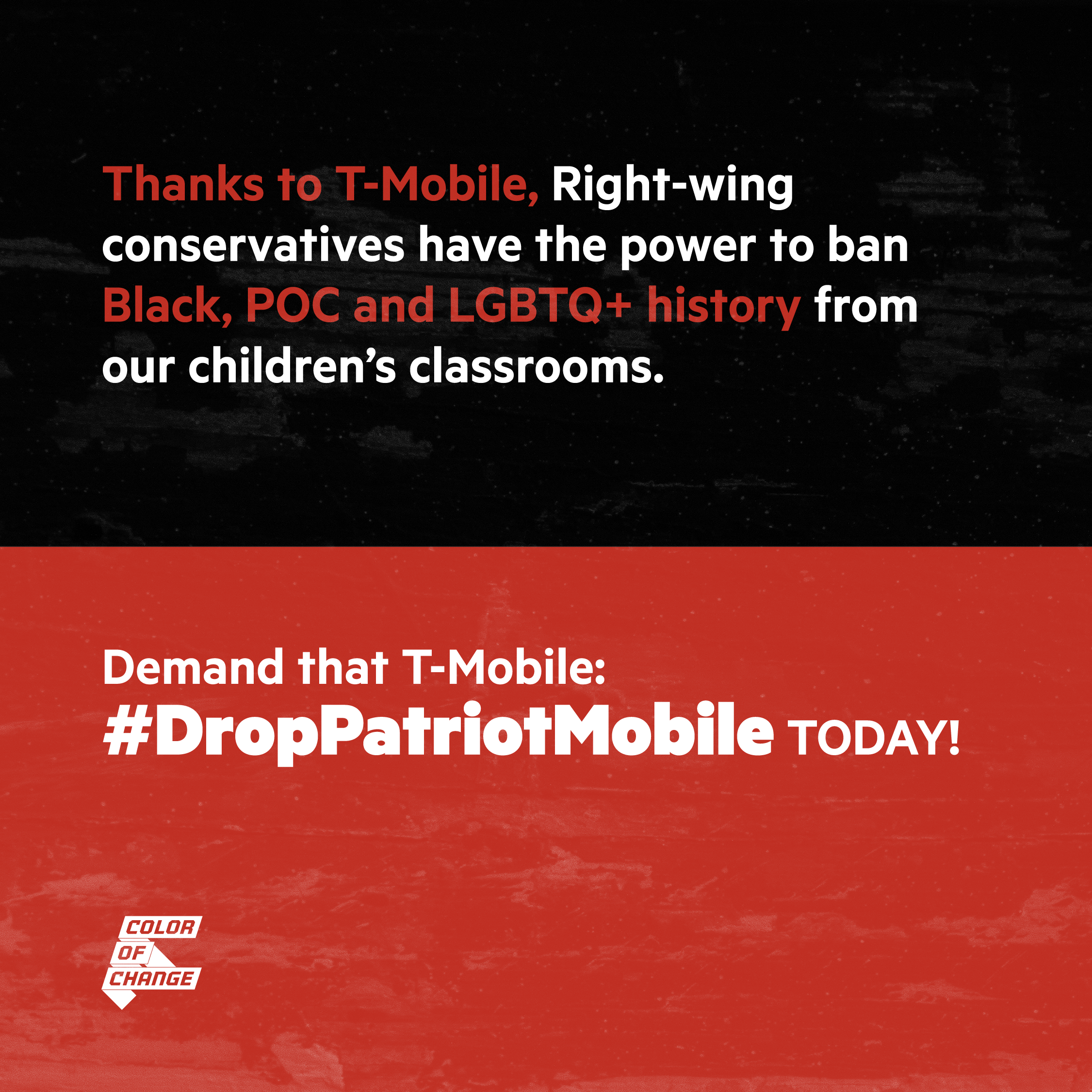 Last year, it was reported that T-Mobile rents its cellular towers and infrastructure to Patriot Mobile, a far-right wireless cellphone service provider whose political action committee has helped fund extremist school board candidates who oppose anti-racism initiatives and LGBTQ+ -inclusive learning environments. This election cycle, Patriot Mobile PAC raised more than $400,000 — an unprecedented amount for local elections — to elect 11 school board candidates. Now, right-wing conservatives have gained control over four school districts in North Texas, and they have started to abuse this power. 
In July, the Carroll Independent School District pushed through a policy that would allow parents to challenge classroom materials for anything they might find offensive, creating a pathway for schools to ban Black, POC and LGBTQ+-authored or -centered books. In August, the Keller Independent School District removed 41 previously challenged books from campus library shelves, including "The Bluest Eye" by Toni Morrison, which tells the story of a young Black girl who navigates anti-Blackness and socially constructed beauty standards. That same month, the Grapevine-Colleyville Independent School District implemented policies that would restrict classroom discussions on race and gender and also limit the right of transgender or nonbinary students to use their preferred bathrooms and pronouns. To date, all but one of the school districts — the Mansfield Independent School District — have enacted policies that would marginalize Black, POC and LGBTQ+ authors, history and students in the classroom. 
In the past year alone, Texas has banned 801 books across 22 school districts — more than any other state in the country. Nationwide, 1,648 book titles have been banned from schools;41 %feature LGBTQ+ themes or main characters, and another 40 % contain protagonists or prominent secondary characters of color. These numbers soon could skyrocket because Patriot Mobile Action PAC recently announced plans to "expand their efforts to other counties, other states, and be in every state across the nation." Banning books about Black people and lessons involving race robs Black children of the dignity that comes with learning Black history and U.S. history. And codifying the practice of misgendering makes trans and nonbinary children feel invalidated, unseen and unheard. Schools should be a safe haven for all children. But these Patriot Mobile-backed candidates and policies marginalize students and their humanity. 
In the past, T-Mobile traditionally has supported the education of Black, POC and LGBTQ+ students, from donating to scholarship programs that benefit HBCU students to supporting literacy programs for LGBTQ+ youth. However, its support for Patriot Mobile is in direct opposition to its commitments to our communities and our children's ability to access inclusive high-quality education. Without the support of T-Mobile, Patriot Mobile PAC could not exist, let alone continue with its hostile takeover of school boards across the country.
Join Color Of Change in demanding that T-Mobile #DropPatriotMobile from its cellular network!
Below is the letter we will send to T-Mobile President and  CEO Mike Sievert:
Here is the Petition:
Dear Mr. Sievert:

As the second-largest wireless carrier and a company that has pledged millions of dollars to support the education of Black students at HBCUs and LGBTQ+ children, it is gravely concerning that T-Mobile shares its cellular network with Patriot Mobile. Patriot Mobile Action PAC is a conservative, far-right organization that has spent more than $400,000 to elect school board candidates in Texas who will oppose the teaching of LGBTQ+ ideologies and fight against anti-racism initiatives. To date, Patriot Mobile PAC has taken over four school boards in North Texas, and all but one has enacted policies to restrict classroom discussions on race and/or gender. 


Given that T-Mobile has continued to serve as a financial lifeline to Patriot Mobile, which depends on T-Mobile's excess capacity to operate, we believe that your corporation is complicit in these targeted attacks on our educational system. We strongly urge T-Mobile to: 

Terminate your business relationship with Patriot Mobile, and 

Refrain from supporting far-right corporations. 

Sincerely,

[Your Name]