Deputy Fournier has got to go.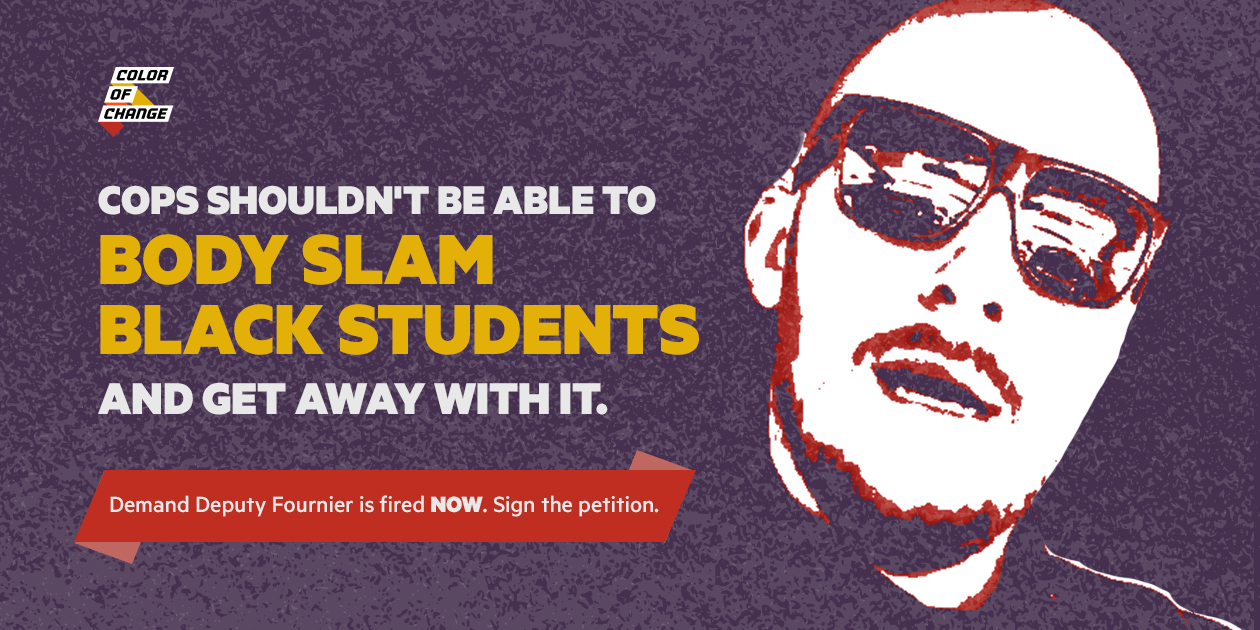 A Florida police officer violently arrested a Black student -- he must face accountability. 
Viral video footage of the incident shows Deputy Fournier body-slamming a teenage Black girl, knocking her unconscious, and handcuffing her while she lay motionless. The city sheriff's office claims that Fournier was trying to stop the student he violently attacked from fighting with another student. But it has since been uncovered that the situation had already been de-escalated when the officer arrived. Nevertheless, Fournier proceeded to violently arrest this student.
The Osceola County Sheriff's Department has stated that they've initiated an investigation into the incident, but we know this is not nearly enough. 
Let's be clear: a grown man should never be able to body slam a teenage girl, especially under the guise of "keeping other students safe." It's unacceptable. 
That's where you come in. We need your help to put pressure on Osceola County Sheriff Marco Lopez to ensure Deputy Fournier is fired from the police force for good. 
Black kids deserve to go to school to learn & grow, not to be targeted by the police. Time and time again, Black students are more likely to be arrested by SROs or school resource officers. And Black girls are facing the brunt of these brutal arrests. Just last year we saw Grace, a 15-year-old Black girl from Michigan, thrown in jail because she didn't complete her homework. She spent months in a cage because her teachers decided to take a "zero-tolerance" approach when dealing with behavior problems. 
And because Black communities are over-policed, Black children are disproportionately arrested and sent to juvenile detention for these minor issues. Schools with police have 3X as many arrests compared to those that don't, contributing to the school-to-prison pipeline. And these policing programs siphon money away from the mental health and counseling resources that students need to thrive. 
When teachers and staff don't have the support they need to address behavioral problems, they turn to the police. But instead of addressing underlying issues or de-escalating tense situations,  cops are quick to arrest, handcuff, and detain.
Firing Deputy Fournier is the first step. It's time for schools in Florida to prioritize the needs of students, and that starts with divesting from police in schools and investing in the counseling and mental health resources students need to succeed.
Tell Osceola Sheriff Marco Lopez: Cops shouldn't be able to brutally attack children and get away with it. Sign the petition.
Here is the Petition:
The viral video of Osceola County Deputy Fournier brutally attacking a teenage Black girl under the guise of "protecting other students," at Liberty High School in Kissimmee was disturbing. 

Deputy Fournier body-slammed this girl, he knocked her unconscious and proceeded to arrest her. It's simply unacceptable. 

What's worse, this behavior is normalized and justified within the Osceola County Sheriffs department. Meanwhile, Black students are being forced to go to school while living in fear that a minor infraction could get them violently arrested or worse locked in a cage for months at a time.

Our students deserve care, not cages. We're looking at you to fire Deputy Fournier immediately, and take steps to prioritize the mental health and counseling services our kids need to succeed.