Civil Rights is an afterthought to Facebook. Demand Facebook create a permanent civil rights infrastructure.
Civil Rights is an afterthought to Facebook. Demand Facebook create a permanent civil rights infrastructure.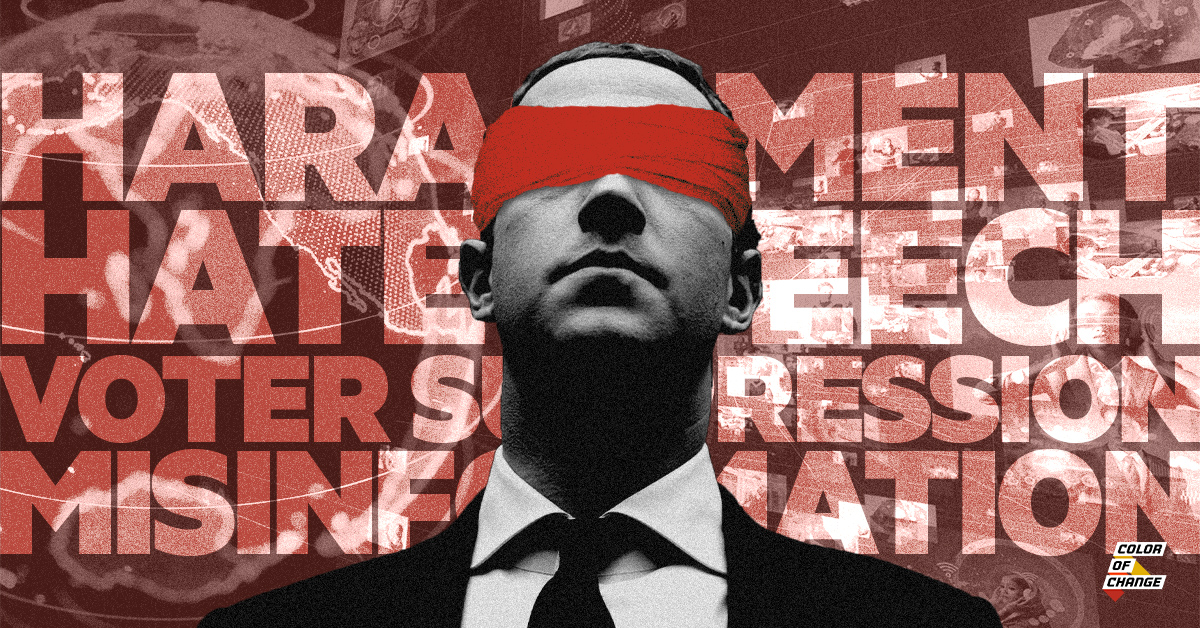 Civil rights is an afterthought to Facebook, yet it should be a part of every decision. Facebook is a tech behemoth that refuses to see the many ways its inaction in protecting Black users from harassment, hate speech, and misinformation continues to cause mass harm and produce fatal outcomes for our communities. 
For five years, Color Of Change has fought to protect the identities of protestors on the platform, demanding that Facebook take accountability for enabling law enforcement's violent relationship with Black communities and forcing Facebook to address the ways it perpetuates voter suppression and misinformation. Without a clear and concrete commitment to creating a civil rights infrastructure that spans these issues, a platform designed to connect will become a breeding ground for hate. 
Our demands for a civil rights infrastructure is only the tip of the iceberg as Facebook has room to implement even more intentional changes. See below for the additional ways Facebook must address the civil rights abuse that runs rampant on the platform.
Below is the letter we will send to Facebook: 
Here is the Petition:
Facebook:

We refuse to allow our attempts to create safe online spaces for Black people to be unheard or unacknowledged. Over the course of five years Black people have experienced grave danger at the hand of your platform, and we will not allow this to continue. The dismal attempts to create a safer platform continue to undermine the movement for Black liberation. Therefore, we are demanding the following:

Establish and empower permanent civil rights infrastructure, including a C-suite executive with civil rights expertise. 

Submit to regular third-party, independent audits of identity-based hate and misinformation.

Provide audit of and refund to advertisers whose ads were shown next to content that violates terms of service.

Find and remove public and private hate groups.

Adopt common-sense policy changes that address radicalization on the platform. 

Stop recommending and amplifying groups that glorify hate speech. 

Create an internal mechanism to automatically flag hateful content in private groups for human review.

Remove misinformation related to voting and prohibit calls for violence for politicians. 

Create expert teams to review submissions of identity-based hate and harassment.

Enable individuals facing severe hate and harassment to connect with a live Facebook employee.

The above demands are only a start. However, without these changes Black users will continue to experience unfair and unjust treatment on the platform.