Tell Mayor de Blasio: Defund NYPD. Invest in Communities.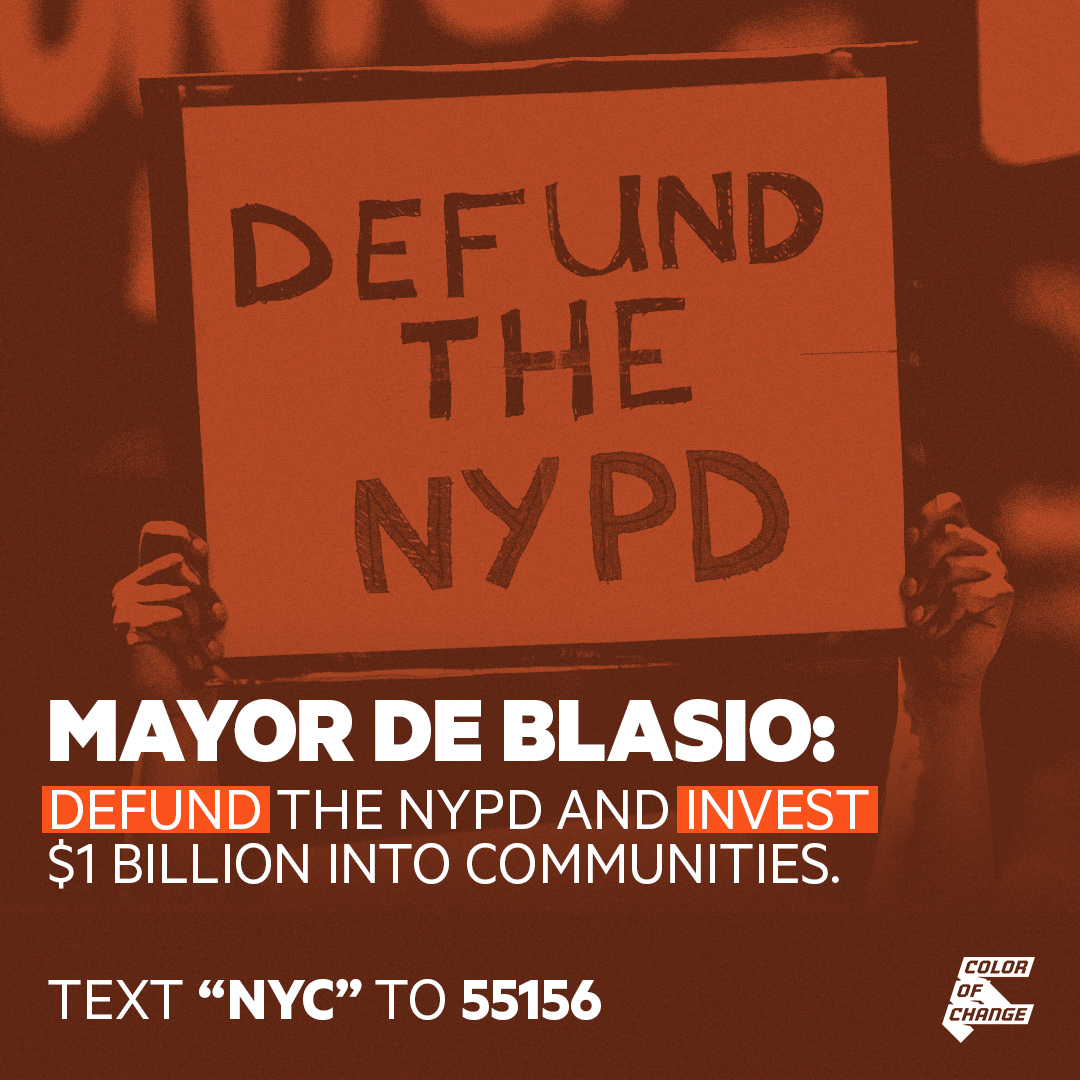 "The NYPD is the 7th largest military in the world" - Billionaire and former NYC Mayor Mike Bloomberg.
Bloomberg wasn't wrong when he called the NYPD a military. With a budget of almost 6 billion dollars a year, they outsize every other state and even some countries —and with an arsenal of chemical weapons, tanks, sniper units, surveillance towers, and sound grenades, they look more like an army prepared for war than a city police department.
Black and Brown communities don't need militaries in our backyards. We need investment in the systems that allow our communities to thrive.
What does safety look like in New York, the epicenter of the pandemic? Instead of PPE for our frontline workers and expanded healthcare for all New Yorkers, Governor Cuomo's budget proposal CUTS funding for healthcare. And Mayor de Blasio is no better. He has proposed firing 22,000 city workers due to the economic crisis amidst the pandemic. And rather than implementing a humane plan to address the incarcerated population, de Blasio has let the NYPD use their riot gear to terrorize protestors and handcuffs to lock up Black people for "breaking" social distancing orders. Even before the pandemic, NYPD officers routinely harassed and targeted Black people with arrests. 88% of police stops in 2018 involved Black and Latinx people, and Black people are 8x more likely to be arrested for simple marijuana possession.
The persistent police violence that Black people face is a direct result of Mayor de Blasio's overfunding of the police and underinvestment in the programs that help our communities thrive. The NYPD's budget has increased by $1.2 billion over the past 10 years. And since de Blasio became mayor, the NYPD's budget grew to become more than all of these essential services combined: departments of health, homeless services, housing preservation & development, youth & community development, and workforce development.
Under de Blasio's watch, there has been underinvestment —and even divestment — from social services for Black, Brown, and poor people. Affordable housing, youth programs, support for elders, education, and more have all seen cuts due to de Blasio's misplaced priority of funding the NYPD. For every dollar the NYPD gets, only 29 cents goes to homeless services, 25 cents to the department of health, and just one penny to workforce development. 
Safety for our communities is only possible when we invest in strong, accessible, and culturally competent citywide systems that center the needs of Black people. When we begin to invest in social services, public health infrastructure, quality mental health programs, and community-based alternatives to policing, Black communities will grow to be safer and healthier. We not only need our jobs, but we need substantial investment in the vital programs that keep our communities thriving. So that's why we're calling on Mayor Bill de Blasio to immediately reduce the NYPD's budget by $1 billion and invest that into community-based alternatives.
Here is the Petition:
Dear Mayor Bill de Blasio,

Black and Brown communities in New York City are suffering. 

Constant police violence, over-policing in overcrowded schools, and lack of community investment are harming Black and Brown people in your city. I'm calling on you to immediately reduce the NYPD's $6 billion budget by $1 billion and invest it into the things that keep us safe, healthy, and housed. 

Sincerely, 

[Your Name]