Major U.S Corporations Are Funding the Attack on Abortion Rights! #DefundAbortionBans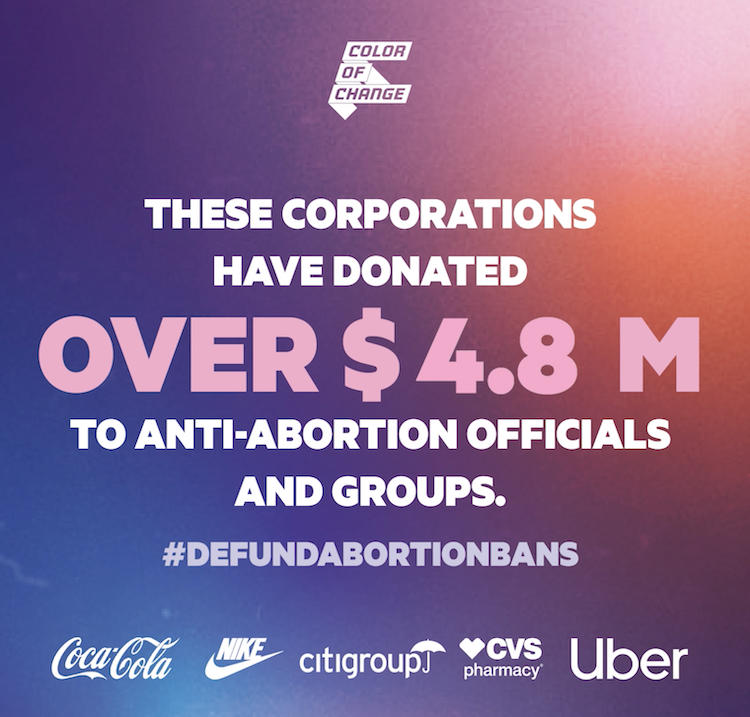 On June 24, the U.S. Supreme Court ruled that abortion is no longer an established constitutional right, overturning the landmark Roe v. Wade court decision and decades of federal protections with respect to reproductive autonomy. In the immediate aftermath, some states passed six-week bans that outlaw abortions before most people even learn of their pregnancy, while other states introduced abortion bounty-hunting laws that criminalize those who "aid and abet" the procedure. Now, millions of Black and low-income Black people have been robbed of their right to determine whether and when to have children, and drivers for Uber and Lyft who drop patients off at abortion clinics are at risk of prosecution. The cascade of restrictive abortion legislation has only just begun, and up to 26 states could pass anti-abortion laws in the coming weeks. 
In response to the ruling, CVS restated its commitment to "ensuring access to safe, legal, and high-quality healthcare." However, since 2016, the pharmacy giant and other major corporations (e.g., Coca-Cola, Nike, Uber, and Citigroup) have donated over $4.8 million combined to anti-abortion committees. Corporations cannot claim to support equal access while simultaneously funding the politicians and groups that are making it harder for our communities to obtain safe, legal abortions. It is not only hypocritical but incredibly dangerous as it threatens the safety of our community. Whereas most pregnancy-related complications are preventable, Black women are three times more likely to die during childbirth. Most recent studies suggest that if abortions were to be banned in every state, the Black maternal mortality rate would more than double nationwide—and nearly triple in states like Florida and Georgia. Abortion is healthcare; and CVS, especially, should know that.
Other corporations—like Nike, Uber, and Citigroup—have offered to cover abortion-related travel expenses for employees who need to travel out of state to undergo the procedure. These corporate policies primarily benefit middle- to upper-class white people, leaving Black and working-class people to fend for themselves. The average cost of an abortion procedure is around $500, but for those who reside in anti-abortion states, the costs can be astronomical. From out-of-network medical care to hotel expenses, Black and working-class expectant people are forced to wrestle with unimaginable trade-offs: forgo basic necessities to undergo the procedure, seek an "illegal" abortion, and risk criminal prosecution, or carry the pregnancy full-term at the expense of their health and financial well-being. If Nike, Citigroup, and Uber truly believe that people should have control over their bodies, then these corporations must stop sponsoring anti-abortion laws that restrict access and drive structural inequalities. These corporate policies cannot take the place of the legal right to access abortion. 
Ultimately, these corporations must live up to their stated values and stop funding the attacks on reproductive rights! Demand that these corporations #DefundAbortionBans and release a statement encouraging their industry peers to do the same!
Below is the petition that we will send to CVS, Nike, Citigroup, Coca-Cola, Uber, and other anti-abortion corporations:
Here is the Petition:
Dear Corporate Executives: 

The Supreme Court's ruling in

Dobbs v. Jackson Women's Health Organizatio

n ended 50 years of federal constitutional protections for abortions, leaving the lives and liberties of Black, LGBTQ+, Disabled, and low-income folks in limbo. In many states across the nation, those who are (or may become) pregnant will encounter significant barriers to accessing not only safe and affordable abortions but other medical treatments essential to their health and well-being. 



In the past, your corporations have made varying commitments to advance equity. However, since 2016, your corporations have donated anywhere between $50,000 and $2.6 million to anti-abortion groups. In other words, your corporations are funding the

abortion bounty hunting

laws that allow for the prosecution of healthcare professionals who perform abortions and the

six-week bans that force people to carry pregnancies to term against their will—both of which drive racial, gender, and economic inequities.
 

Ultimately, your corporations bear responsibility for how these anti-abortion laws are wreaking havoc on our communities, and it's time that you make your commitment to equity tangible.

Stop donating to anti-abortion organizations and committees and call on your industry peers to do the same. #DefundAbortionBans. 

Sincerely,


[Your Name]