Demand that Textbook Publishers Fight Back Against Efforts to White-Wash Black History!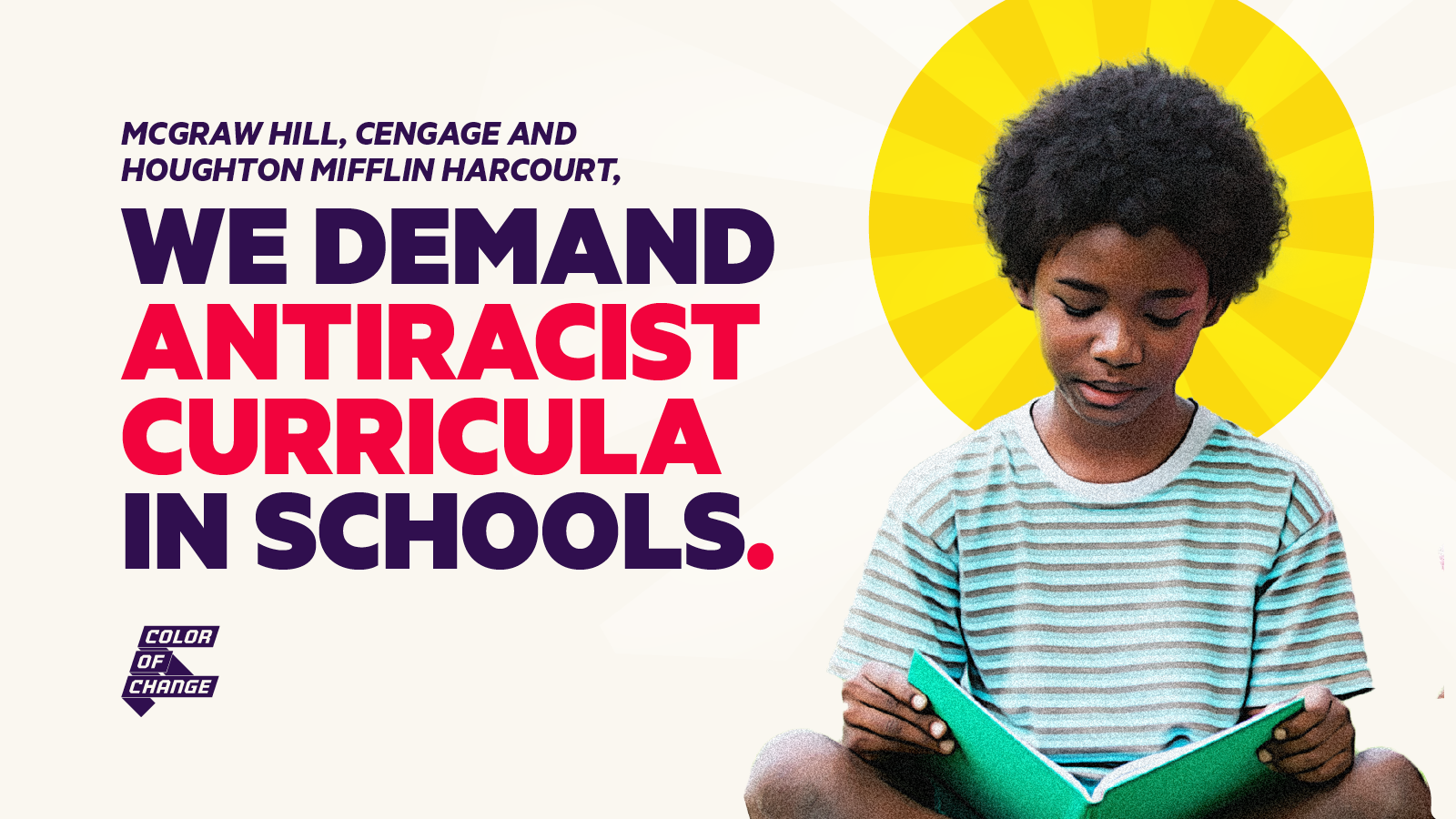 Black history is under attack. On March 22, the Florida legislature passed a bill that censors critical conversations about slavery, systemic racism, and oppression. A month later, the Florida Department of Education (FLDOE) rejected almost half of the math textbooks for the upcoming year, some of which featured ethnically diverse names in written prompts or included facts about Black mathematicians, like Dorothy Johnson Vaughan. While some of those math textbooks have since been reinstated, it's clear that Florida legislators and school board officials are targeting textbook content and attempting to white-wash what our children learn in school. Back in October, Color Of Change warned textbook publishers that this could happen, but none of them wanted to make their commitment to teaching Black history public. Now, more than three million children could be robbed of the educational (and cultural) enrichment they deserve. 
Accurate representation matters. When Black children see themselves reflected in the classroom lessons and textbooks, learning becomes more meaningful and their potential for academic success soars. For example, in a 2014 study of five Black high school students, researchers found that participation in a culturally relevant mathematics course bolstered their confidence when taking standardized tests and their motivation to learn. But when right-wing conservatives become involved in K-12 education, an education crisis ensues. Black children remain marginalized in the classroom, subject to lessons that invalidate their lived experiences. And all children are robbed of the truth about what Black communities have endured on this soil, and how our valuable contributions have impacted this country and the rest of the world. 
As we've seen with the recent surge in white nationalist attacks, the absence of sound and accurate Black history results in continual harm to our communities. The rapid spread of mis- and disinformation created conditions for the insurrectionists who stormed the Capitol, Kyle Rittenhouse (who was recruited by white nationalists), and more recently, the Buffalo shooter (who drafted a manifesto based on the far-right conspiracy theories he had found online). Hiding the truth is violence, and it harms all of us. 
Unless textbook publishers take action, right-wing conservatives and extremists will continue to deprive our children of a well-rounded education. Demand that McGraw Hill and other textbook publishers fight back against these attacks and make a public commitment to never yield to demands to erase Black history from their learning materials! Black lives, Black children, and Black futures depend on it. #DefendBlackHistory
Below is the petition that we will send to McGraw Hill and other textbook publishers:
Here is the Petition:
Dear McGraw Hill, Cengage, Houghton Mifflin Harcourt and Scholastic Executives:



Back in October 2021, Color Of Change warned textbook publishers about the right-wing attacks on Black history, but none of them listened.

Instead, textbook publishers have sat idle as Black communities (and allies) reckon with the real-world harms imposed—from white nationalist violence (e.g., the Buffalo shooting) to the harassment of educators who dare to teach our children Black history. There is too much at stake to do nothing. Again, we are asking that you: 

Make a public commitment to reject any future demands to erase Black history from your educational materials. 

Cease all support of the political groups/candidates behind laws to ban Black history, social justice, and other important topics from the classroom (where applicable).

Invest in ongoing efforts to defend Black history (e.g., advertising campaigns, bookmobiles). 

Sincerely,