Protect DC's Black-owned Businesses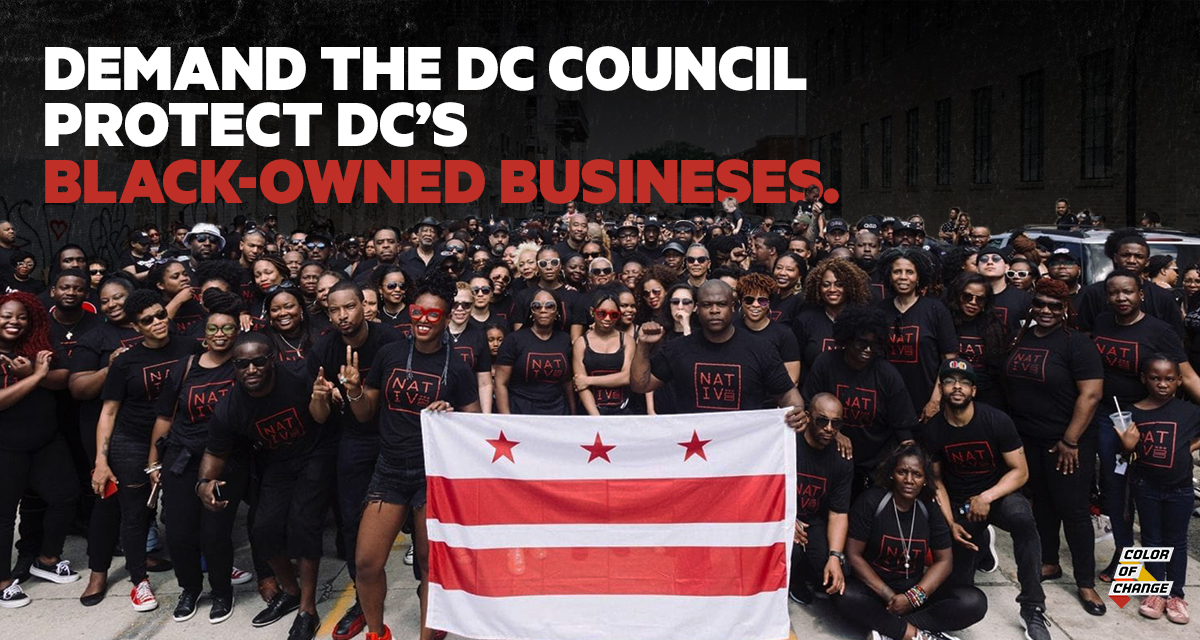 Gentrification is forcing Black-owned businesses in Washington, DC, to close. Many of these businesses have been community staples for decades, surviving recessions and natural disasters, but the drastic increases in property taxes and rent, driven by gentrification, are putting them out of business. The city once known as "Chocolate City," for its thriving Black neighborhoods and rich culture, has been declared the most gentrified city in the country1
But this did not happen overnight. The DC government has played an outsized role in enabling the gentrification pushing out Black businesses. Through tax abatements passed by the DC Council, new corporate developments and big national chains have been allowed to operate in the city for years without paying their fair share of property taxes. Black-owned businesses that have served the city for decades pay incessantly rising property taxes and commercial rent that subsidizes the very corporations pushing them out. This must stop. The DC Council has the power to turn this trend around and use tax abatements to level the playing field for local Black-owned businesses.
Legislation B23-0075, written by DC Councilmember Brianne Nadeau, addresses tax abatement for a specific Black business, Sankofa Video Books and Cafe.6 Sankofa has served the community surrounding Howard University for decades, providing residents and students access to an abundant and rare collection of African-centered literature and offering a safe space for Black artists to display their work at little to no cost. Sankofa has a bill of $30,000 in taxes for 2019 as a result of property value increases and is requesting a 10-year tax abatement.7 Passing the bill to save Sankofa bookstore will set a new precedent in the fight for the economic vitality of DC's native Black businesses and give activists a new tool against gentrification.
Tell the DC Council to pass B23-0075 and advance further legislation for tax abatement and rental relief to other DC native Black-owned businesses.
Here is the Petition:
Dear Council Member,

I am writing you urgently to request your support for B23-0075 - the Mypheduh Films dba Sankofa Video and Books Real Property Tax Exemption.

Sankofa has been an important institution in my life and the life of my family. Since 1998 their offerings of a wide variety of books by black authors in history, culture, sociology, spiritualism and more, have provided a selection that is very difficult to find in and outside of the DC area. Their children's literature selection focusing on black children and authors is the largest in the tri-state area. Not only do I rely on Sankofa for the great literature but for the possibility of interacting with authors,
scholars, artists, musicians and more. With a very small budget to make ends meet, somehow Sankofa manages to be a place where all ages have something enriching to experience, often with each other: open mic, spoken word and live music, Happy Nappy Storytelling Time, independent movies with filmmakers, critical reading workshops, scriptwriting/directing/acting workshops, and of course, great food in the healthy and affordable, Sankofa Café right on the premises.

It is very remarkable that despite the gentrification of the neighborhood and city, Sankofa Video and Books has continued to provide these services, on some level. This year's tax increase to near $30,000, puts Sankofa in a precarious position of instability. Over the years institutions like Sankofa have stood for DC, now in an era of relentless development that drives up all aspects of life in DC, I implore the city council to stand for DC by removing its tax burden for at least the next 10 years.