Tell Your Representative: Co-Sponsor the Connecting Families Act!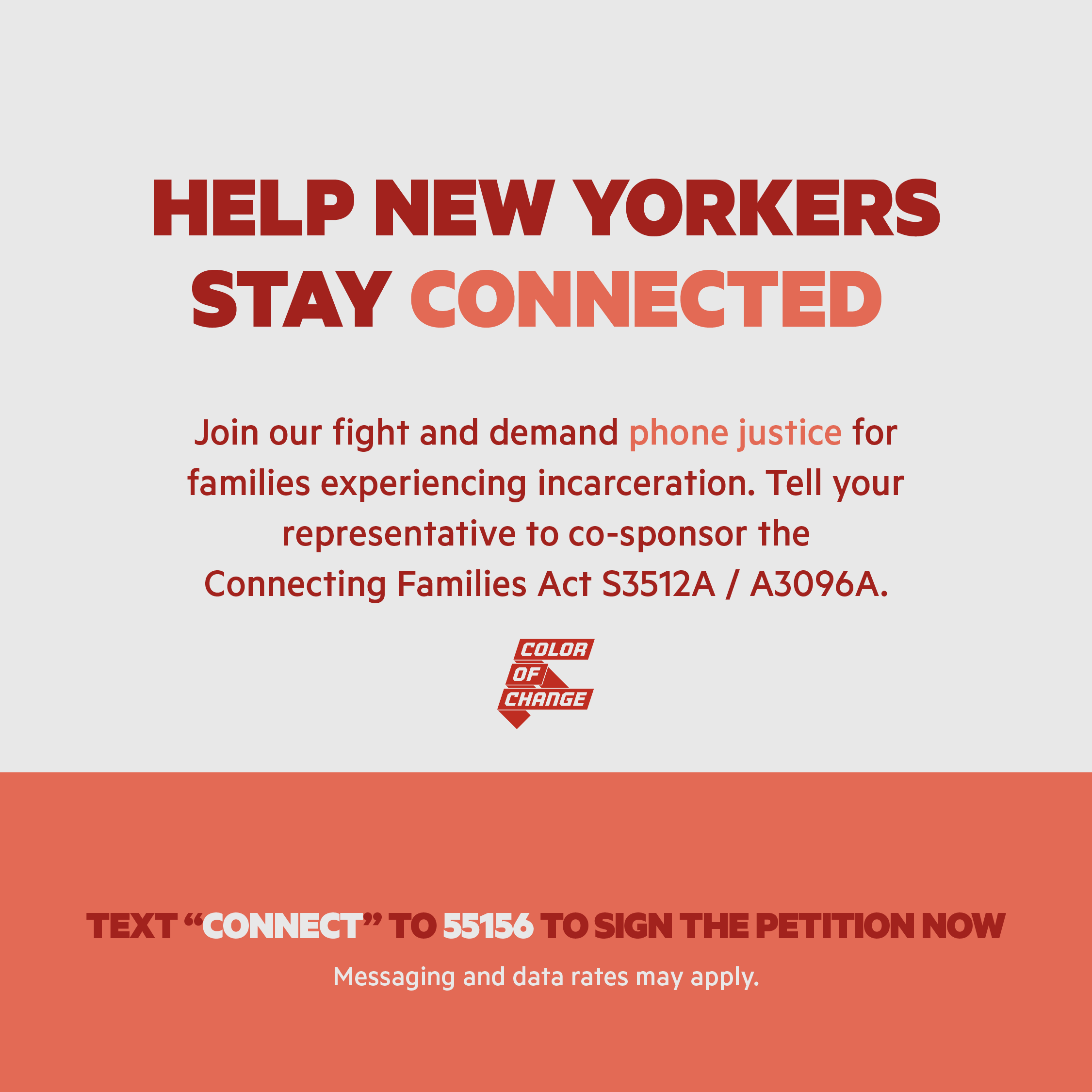 Communication is a human right but across the country, incarcerated people are being denied their humanity. 
It's time to put an end to prison profiteering. For years prison telecom corporations have made enormous profits, charging up to $15 for a 15-minute phone call, raking in a whopping $1.4 billion a year.  It's crucial that we call on our elected officials in the New York legislature to sponsor The Connecting Families Act, and make communication free for incarcerated people and their loved ones.
Families are being harmed. Most incarcerated people are still unable to see family and friends because of in-person visitation restrictions. While vaccinations have become accessible, the pandemic is not over. That's why we're making our demands clear: Every family deserves to stay connected.One in three families have to go into debt just to stay connected with their incarcerated loved ones. Right now, the New York State Department of Corrections and Community Supervision, the state's prison system, charges 60 cents per 15-minute phone call.
We can stop this. In New York State there are currently two active bills in both the State Assembly and Senate that, if passed, would provide incarcerated people with 90 minutes of free phone communication per day. This monumental legislation will help end the predatory practices from prison telecom companies, allowing incarcerated people to connect with their families without causing financial instability. Now is the chance to make it happen — and now more than ever, families and loved ones need to stay connected.
Add your name: Demand your member of congress co-sponsor the Connecting Families Act (S3512A/A3096A)
Thankfully due to years of powerful activism, there is political will for both of these bills to be passed. However, in order for this legislation to be put in next year's budget, we need more representatives in the legislature to become sponsors. 
Your ongoing support and solidarity is crucial in the fight to keep families connected. 
 Below is the letter we'll be sending to your representative:
Here is the Petition:
Dear Representative,

Communication is a human right, not a commodity. As your constituent, I am calling on you to co-sponsor The Connecting Families Act (S3512A/A3096A). This bill guarantees 90 minutes of free communication and stops prison profiteers from charging incarcerated people astronomical rates for voice and video calls. As elected officials, you have the power to deliver relief for your constituents and their loved ones. That's why we're calling on you to become a sponsor for The Connecting Families Act. 

Families should never be exploited by prison profiteers, especially during a pandemic. We're calling on you to sponsor this critical legislation that will put an end to the exploitation of the most vulnerable New Yorkers.

Sincerely,
[Your Name]