Demand that the U.S. Congress guarantee fair pay for college athletes in every state.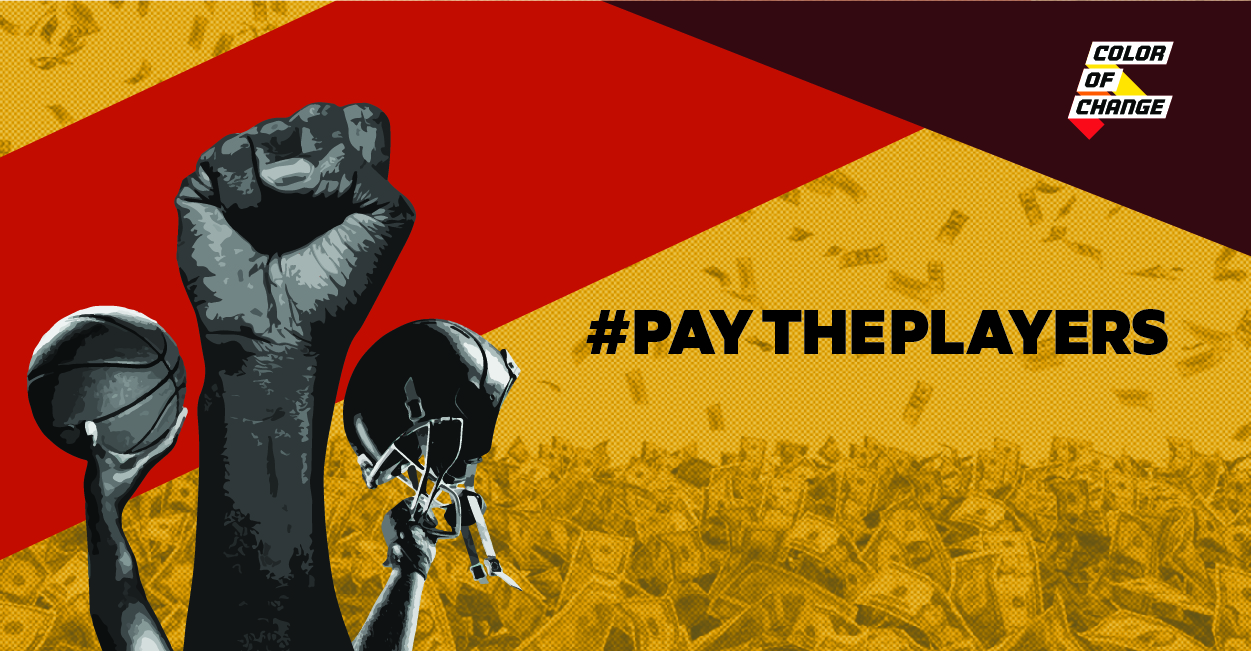 The NCAA continues to criminalize Black student-athletes for not having money. Last year, Chase Young, a star defensive football player for the Ohio Buckeyes, sought after his dream of having his family see him play in one of the biggest football events of the year, The Rosebowl. He had to borrow money from a family friend to pay for airfare for his family to travel for the game, and he paid the family friend back. But the NCAA put Young under investigation, and suspended him two games, forcing him to sit out of games that jeopardized his chances of winning the Heisman trophy. 
In Memphis, the NCAA is sabotaging basketball star, James Wiseman, for the financial support that his family was given, without his knowledge, when he was in high school. Wiseman's then high school coach, Penny Hardaway helped pay for him and his family to relocate to a better high school. But because of this, the NCAA started an investigation and is blocking him from playing.
The dollar amount of Chase Young's airfare and James Wiseman's family support is miniscule when compared to the billions NCAA will make off of these athletes this season. The NCAA signed a TV deal with CBS Sports and Turner Broadcasting to air its March Madness tournament that will make them a billion dollars a year. Yet NCAA is criminalizing Chase Young and James Wiseman over thousand-dollar transactions meant to help their families.
The NCAA recently succumbed to national pressure to allow athletes to earn money from the use of their names, images, and likenesses. But because this is the NCAA, we know there will be arbitrary limitations for how and when players can earn and spend their own money. The scrutiny over student-athlete finances will only increase as the players are exposed to more economic opportunity, as seen in the cases of James Wiseman and Chase Young. We can't leave it up to the NCAA to create fair rules for student-athletes.
Demand congressional legislation to end the exploitation of Black student-athletes across the country!
Here is the Petition:
Dear Representative,

Under the NCAA's current rules, college players can't profit from their own image or likeness. Because of rigorous practice and game schedules, student-athletes cannot work while under scholarship. And because of the demands the NCAA puts on Black athletes to generate revenue, many find it impossible to earn a degree while they play. Not only are the NCAA's rules denying Black athletes fair compensation, they're robbing student-athletes of a chance to get a degree.

When California passed the Fair Pay to Play Act, the NCAA's authority over Black student-athletes was directly challenged. In fact, the NCAA fought against this legislation from the time the bill was introduced until Governor Gavin Newsom signed the bill. The NCAA's new decision is a power move in retaliation for states attempting to govern their own college athletes. It is also a strategic opportunity for the NCAA to maintain full control of players by creating the terms for their compensation — and will likely include arbitrary limitations on how players can be compensated. We can't leave it up to the NCAA to create fair rules in a game it never wanted to play.

Student-athletes will continue being exploited under the NCAA, unless this congress guarantees fair pay for all student-athletes. This legislation would transcend geographic and partisan lines. Republican Representative Warner recently introduced a bill in Congress, the Student-Athlete Equity Act (HR 1804), which would strip the NCAA of their tax-exempt status unless they begin allowing athletes to profit off their likenesses. Democratic Presidential Candidate, Senator Corey Booker pledged to back legislation in Congress that would allow student-athlete compensation.

By passing a federal law, Congress can ensure an end to the NCAA's long exploitation of Black student-athletes and usher in a new golden era of fairness in collegiate sports. I implore you to pass federal legislation to guarantee fair pay for all student-athletes.