Tell Congress: #NoMuslimBanEver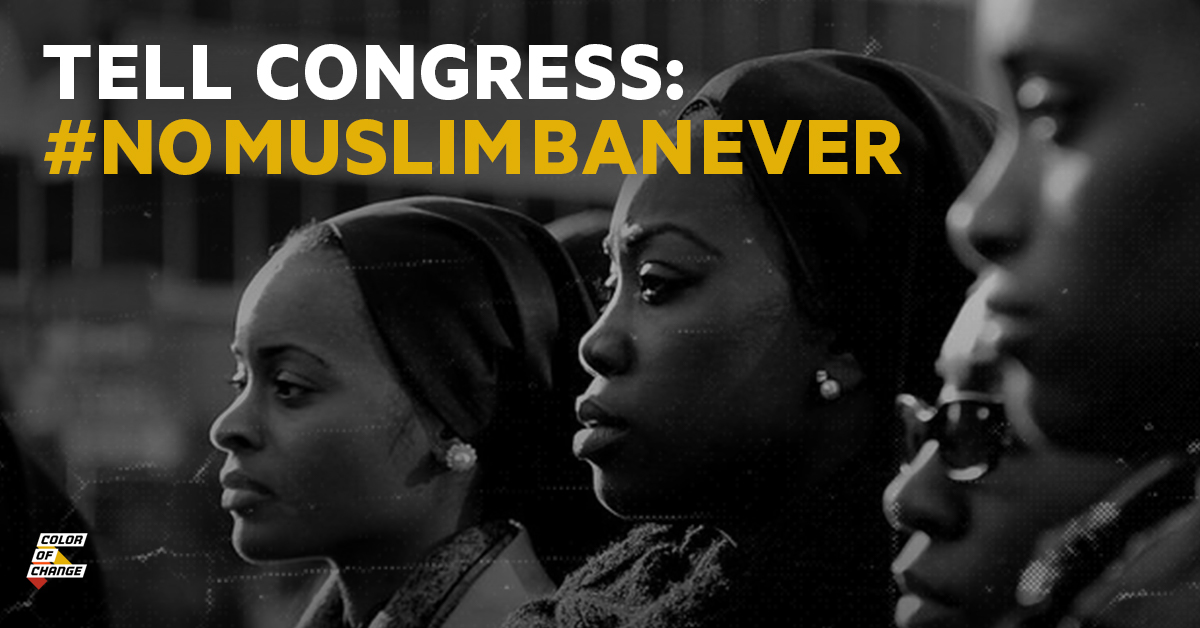 The Supreme Court just voted to uphold Trump's racist Muslim travel ban. However, Congress has the power to pass legislation that could stop the ban entirely.
So far, the fight against the Muslim ban has been mostly a legal one caught up in the courts--and it's allowed Congress to stay quiet. But Congress can not stay quiet anymore, we must demand that they pass legislation to stop Trump's Muslim ban.
The 5-4 Supreme Court decision blocks essentially all immigrants, visitors, and refugees from Iran, Libya, Somalia, Syria, and Yemen--some countries of which are majority Black. The ban is both inherently islamophobic and anti-Black. The devastating effects of targeting Muslim and Black communities and banning them from seeing their families are horrendous, with this ban in affect family members won't be able to see each other, children will no longer be able to connect with their parents, the impacts are very real.
The Supreme Court made this anti-Muslim punishment legal but it is not justice. Slavery was legal, segregation was legal, and Japanese internment camps were legal. The U.S has a long history of legalizing crimes by the government and today with the Muslim ban it continues--unless Congress acts.
Trump is happy continuing the nightmare of America's racism and Congress has allowed him to. But just like us, many members of congress are outraged by this ban and we need to pressure them to pass legislation to stop it. Right after Trump signed the Muslim Ban Executive Order, Congress introduced a bill that would rescind it and every single Congressional Democrat was in support. We can't let them off the hook this time, they must do the same thing in response to the Supreme Court vote.
No Muslim Ban ever--demand Congress pass legislation to stop Trump's racist Muslim ban.
Below is the letter we will send to Congress: 
Here is the Petition:
Dear Congress,

We urge you to take action to pass legislation that would block Trump's racist Muslim ban. Now that the Supreme Court has voted to approve the ban-marking a sad day in Supreme Court history, Congress must act to block the ban. We call on you to pass legislation that would rescind Trump's executive order immediately.

No Muslim ban ever.