Tell Capital One, Coca Cola, and AT&T to endorse the College Athletes Bill of Rights!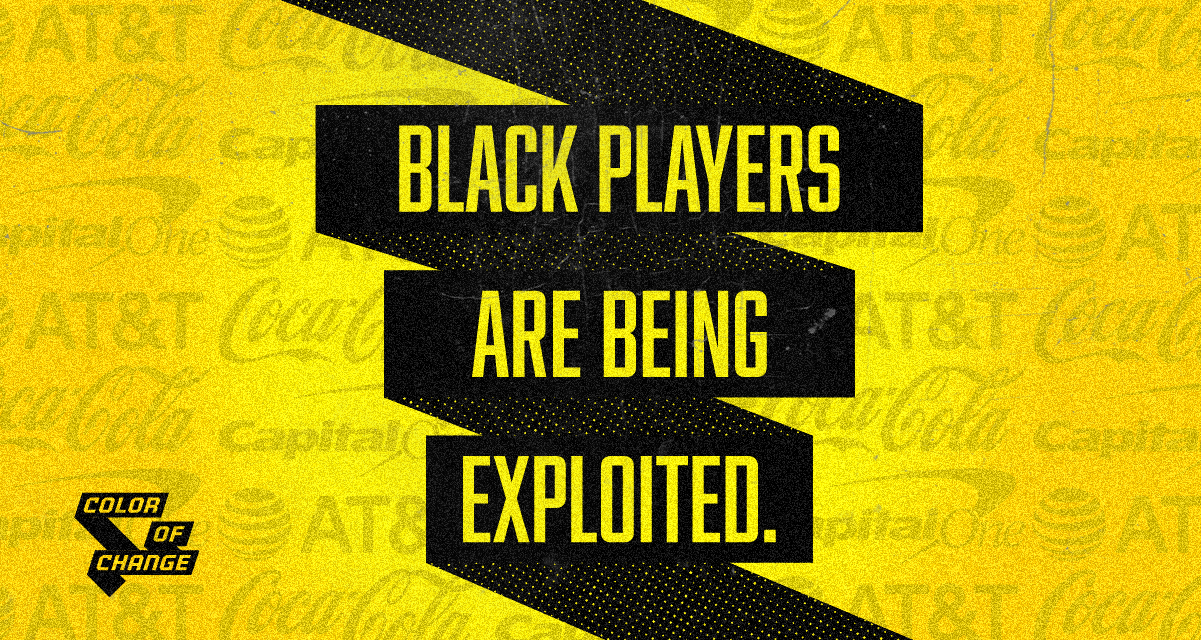 It's March Madness, the time of year when the National Collegiate Athletic Association (NCAA) brings in hundreds of millions of dollars in revenue off of the unpaid labor of Black college athletes. But this year, it's during A PANDEMIC! This is beyond madness. Despite universities remaining closed to students for the year, they have summoned the predominantly Black football and basketball athletes back to college campuses, subjecting them to increased exposure to the deadly coronavirus and without adequate health protections. While Black college athletes are being treated as essential workers without pay, the NCAA staff and university coaches continue to line their pockets with multimillion-dollar salaries.
But now, after years of fighting against the NCAA's outdated and racist rules, we have federal legislation in Congress that can turn the collegiate sports industrial complex on its head! The College Athletes Bill of Rights will provide necessary protections against the NCAA's physical, economic, and academic exploitation of Black college athletes. Written by Senator Cory Booker—a former college athlete himself—this bill is a potential game changer for our players. But we need more support to push this legislation forward. So we're calling on the NCAA's corporate sponsors to join us in endorsing this Bill of Rights and do right by Black college athletes. STAND WITH US! 
While many of these Black athletes struggle to pay for room and board or lack sufficient money for food, the NCAA criminalizes athletes who receive any gifts or financial compensation for their work. And because of the rigorous demands that the NCAA places on Black athletes to generate revenue, many find it impossible to earn a degree or even work a part-time job while they play. These players deserve their fair share of the rewards and profits generated on the backs of their talent and work. That's why this legislation is necessary.
The College Athletes Bill of Rights will:
guarantee fair and equitable compensation
enforce evidence-based health, safety and wellness standards
improve educational outcomes and opportunities
establish a medical trust fund to cover out-of-pocket medical expenses and treat sport-related injuries, for up to five years after the college athletes' eligibility expires
require accountability across college sports
allow freedom for college athletes to attend the institution of their choice
establish the Commission on College Athletics
Capital One, Coca Cola, and AT&T are not only NCAA's top sponsors, but they are also corporations that have made strong statements in support of racial justice. So we are calling on them to put real power behind their stated values by empowering these athletes with the protections they need—that they earned. It's time to transform the future of college sports for the next generation of Black athletes by pushing these corporations to take a stance and endorse lasting change! 
Sign the petition: Tell Capital One, Coca Cola, and AT&T to get off the sidelines and support Black college athletes by endorsing the College Athletes Bill of Rights!
Here is the Petition:
Dear Capital One, Coca Cola, and AT&T:

At a time when the world is calling out systemic racism entrenched in institutions, this moment presents a unique opportunity for your corporation to be on the right side of history and put real power behind your statements for racial equity. Official NCAA corporate champions must take a stance. Last year, Senator Cory Booker created a bill, the College Athletes Bill of Rights, which will guarantee fair and equitable compensation, enforceable health and safety standards, and improved educational opportunities for all college athletes. We ask that your corporation address the NCAA's exploitation of Black college athletes by endorsing the College Athletes Bill of Rights.

Sincerely, 

[Your Name]