Demand justice for the 9-year-old attacked by Rochester PD!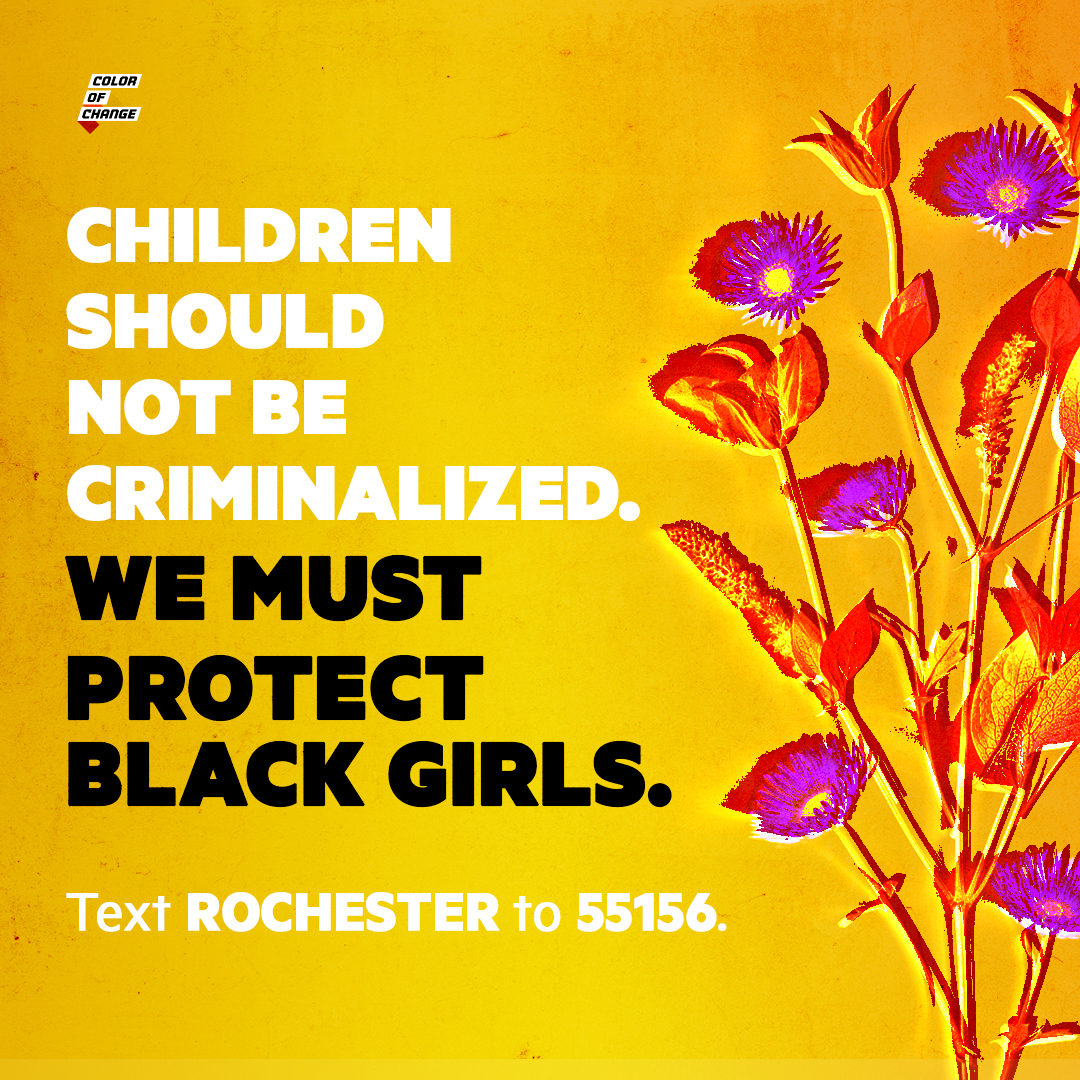 UPDATE 2/12 
Police Chief Cynthia Harriott-Sullivan has released the names of all four officers involved.
Alexander Lombard was suspended; Chad Brady, Adam Bradstreet, and Hannah Schneeberger were placed on administrative leave pending the conclusion of an internal investigation. 
We are calling on them to terminate all officers involved, permanently ban the practice of handcuffing children and prohibit the use of chemical weapons in their community. 
On Friday, January 29, several officers from the Rochester police department responded to a family disagreement. Instead of resolving the dispute, the responding officers quickly escalated the situation and it ended with police hand-cuffing and pepper-spraying a nine-year-old girl. 
Here's what we know: 
Three RPD officers pepper-sprayed a child.

The child's mother, Elba Pope, called the police for a domestic dispute. When the police arrived, Pope's daughter was experiencing a mental health emergency. Bodycam footage shows officers tackling the nine-year-old to the ground before placing her in handcuffs and later pepper-spraying her in the back of the squad car. 
The situation called for trauma-informed care, not state-sanctioned violence. The bodycam footage reveals a pattern of historically anti-Black racism within the Rochester Police Department.  Last year, Daniel Prude, a Black man experiencing a mental health emergency was murdered by RPD, which we only discovered months later because his family demanded the footage be released. RPD has a long history of violent racism, police brutality, and attempted cover-ups. In a very similar situation — a family member calling for help — officers responded with excessive force instead of community care. 
The implication that a Black child should have the capacity to respond calmly while being handcuffed, pepper-sprayed, and berated by a gang of police officers is unacceptable. It's infuriating that multiple police officers (grown men and women) would brutally attack a child. 
We stand in solidarity with the families traumatized by the Rochester police department, and the Black community in Rochester as they demand justice after the violent assault of a 9-year-old child experiencing a mental health crisis. Every officer involved is guilty of prioritizing violence before community care. 
We demand justice, 
Release the names of the officers involved 

Terminate all officers who responded to the scene 
Ban the practice of handcuffing children 
Ban the use of chemical weapons by RPD: prohibit the use of CS gas (tear gas), PepperBalls, and any chemical weapon that threatens the health and safety of community members  
Add your name to the petition demand justice now! 
Below is the letter we will send to the Mayor of Rochester, Lovely Warren & Police Chief Cynthia Harriot-Sullivan, 
Here is the Petition:
Dear Mayor Lovely Warren & Police 

Chief Cynthia Harriot-Sullivan: 

    I'm standing in solidarity with the families traumatized by Rochester police officers, the Black community in Rochester, and Color of Change to demand justice for the 9-year-old girl who was handcuffed and pepper-sprayed by officers on Friday, January 29th. The criminalization of Black children and the irresponsible use of state-sanctioned violence on our communities will not be tolerated. 

We demand justice, 

Release the names of the officers involved 
Terminate all officers who responded to the scene 
Ban the use of chemical weapons by RPD: prohibit the use of CS gas (tear gas), PepperBalls, and any chemical weapon that threatens the health and safety of community members 

If police officers are protected by anonymity, internal investigations, and paid administrative leave they will continue to harm Black people with impunity.  

We demand that the Rochester Police Department is held accountable publicly. Your community demands immediate changes and we won't stop fighting until you move towards our collective vision of safety and dignity. 

Sincerely 

[Your Name]