Demand California's Legislature Pass SB 710 To Fight For Police Accountability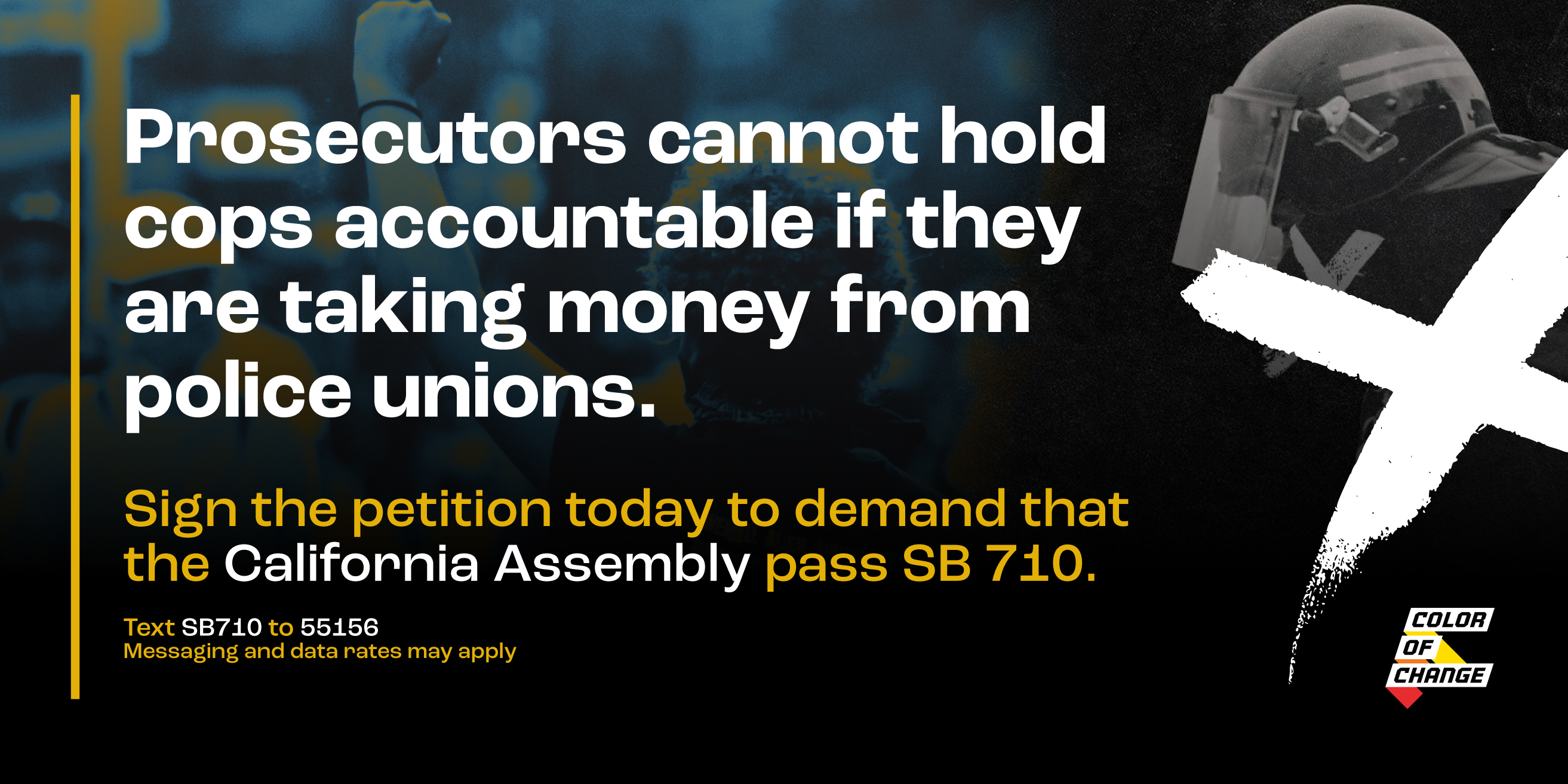 Police unions are one of our biggest roadblocks to reform — and prosecutors who take campaign contributions from police unions will be less likely to hold crooked cops accountable. The conflict of interest is clear.
For too long, police have harassed and brutalized Black people because officers backed by powerful police unions are confident that they will not face any consequences. They largely have avoided consequences because prosecutors who have taken police union money have been unwilling to hold truth to power.
That's why we are urging California's state assembly to pass SB 710. SB 710 would require district attorneys in the state who have taken political donations from police unions, to recuse themselves from cases involving police officers. We need your help to make sure SB 710 becomes the law.
ADD YOUR NAME: Demand California's assembly pass SB 710 and hold police accountable
It is very rare for an officer who has abused their power to get charged, much less be convicted, for that misconduct. A significant reason for that is the outsized role police unions play when it comes to those campaign contributions to prosecutors.
We can't expect prosecutors to hold their own donors accountable. There are countless incidents of prosecutors either slow-walking accountability or taking no action when it comes to police brutality, assault, and corruption.
Passing SB 710 would be one of many ways for us to fight back.
Sign the petition to tell California's assembly to pass SB 710 and fight for police and prosecutor accountability
SB 710 is a common sense bill that seeks to protect the rights of Californians, especially Black and Brown Californians who are constantly victims of police overreach and violence.
The California Assembly must pass SB 710.
Below is the letter we'll be sending to the members of the California Assembly
Here is the Petition:
Dear California Assemblymember,

I am calling on you to support and pass SB 710 in the California Assembly. SB 710 is a common sense bill that would require district attorneys who have taken political donations from police unions to recuse themselves from cases involving potentially illegal conduct from an on-duty police officer.

District attorneys who have accepted police union cash will be less likely to prosecute cops, regardless of what the police have done. SB 710 is an important step forward to avoid this clear conflict of interest, and to hold police officers accountable for misconduct, violence, and excessive use of force.

I urge you to pass SB 710 to help ensure that police officers will face accountability for actions that hurt our communities.