Demand Big Banks return overdraft fees! #TheyOweUs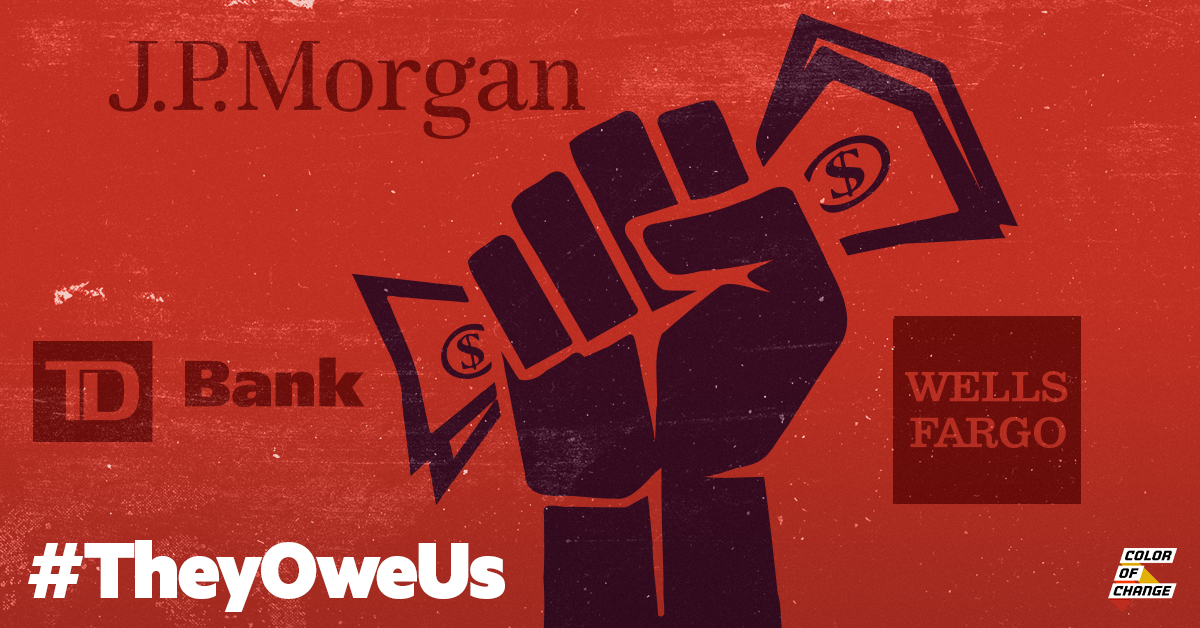 Citigroup Financial estimates that racist banking amounts to $16 trillion not given to Black communities. Citigroup, like the other big banks, are a part of what that means. Banking while Black leads to racist practices such as racial profiling, denial of mortgage loans, and higher loan interest rates. 
In one year alone, banks raked $11.45 billion in overdraft fees from Black and underserved communities. Nearly 80 percent of Chase Bank's lending in Chicago went to majority white areas. On top of that, Chase Bank misused paycheck protection COVID relief funds intended for small business, keeping Black businesses from getting needed help. The cascading effect of this kind of damage can never be fully captured. That's why the financial—and moral—claim for justice for Black people must be a priority. 
Wells Fargo CEO & Co-Chief Executive Charles Scharf said, "there is a very limited pool of Black talent" in response to why the bank fell short on meeting diversity goals set after the murder of George Floyd. JP Morgan Chase Bank recently confessed their role in slavery while still underwriting racism, and TD Bank branches throughout the country have a history of not granting home loan applications to Black people.
The denial of true restitution for Black people for slavery and sins committed since is long due, and the financial industry is an ideal place to start for payment. No other industry has played a bigger or more enduring role in Black oppression, exploitation, and exclusion. The disparity in banking practices has led to an ever-widening racial wealth gap—one that cripples the stability of Black communities for generations.
Demand Big Banks Move Beyond the Statement and Pay $16 Trillion to Black Communities Owed in Systemic Racism.
Here is the Petition:
Dear CEOs of Wells Fargo, TD Bank, JPMorgan Chase Bank,

Banks paying reparations is not unattainable. Throughout history, institutions as well as governments have made amends with cash payments, complete debt forgiveness, land endowment, and other enduring ways that lead to asset building. As underwriters of racism, a path for economic justice should begin with your institution paying restitution. In this moment, where corporations are continuously seeking to illustrate a show of racial solidarity, putting your money where your mouth is the right place to start.