To The Brave USPS Workers Risking Their Lives To Deliver Our Mail: Thank You!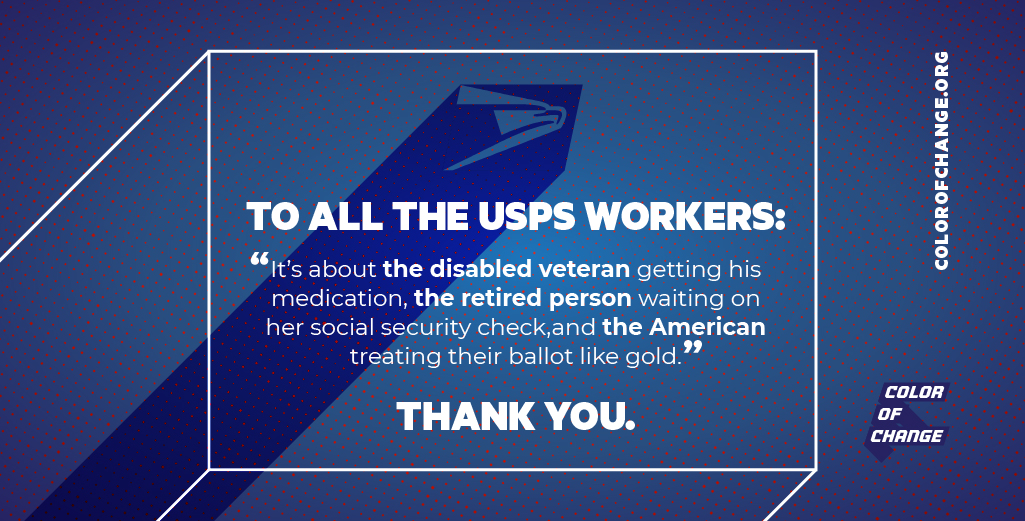 Before Election Day, the United States Postal Service (USPS) had processed and delivered more than 122 million ballots—including both blank ballots from election officials and completed absentee ballots from voters. This remarkable feat comes months after Postmaster General Louis DeJoy, in an attempt to sabotage the post office, removed nearly 700 high-speed mail-sorting machines, scaled back overtime delivery, and threatened to remove dozens of blue collection boxes; all of which left mail carriers with little time to finish their daily rounds. As painstaking as it was, USPS workers managed to deliver these ballots—and nearly all first-class mail—within 2.5 days of the postmark date. Let's support and celebrate all 600,000 postal employees who made the 2020 Presidential Election possible. 
From the outset of the COVID-19 pandemic, USPS workers have placed the needs of Americans before their own health and safety. For the nearly 2 million homebound adults living in the United States, home delivery is their only source of prescription medication and other vital supplies; and though many postal workers are "scared to death" of contracting COVID-19, they continue to selflessly serve their communities. 
While over 50,000 USPS workers nationwide have tested positive for COVID-19, the Coronavirus Aid, Relief, and Economic Security (CARES) Act failed to provide them with hazard pay; postal workers are risking their lives to deliver our mail even without being adequately compensated. The COVID-19 pandemic has taken a substantial toll on USPS workers; we must express gratitude for their hard work and sacrifices. 
Join Color of Change in letting USPS workers know that their service is cherished, respected, and admired. We're collecting and sending notes of gratitude and encouragement in solidarity. Sign this petition and send your "Thank You" Message now!
Here is the Petition:
Dear United States Postal Service workers: 

[You can directly add your kind words and notes of support in the form. We'll collect your words, and publish a booklet so that USPS workers will know that they are appreciated and supported by our communities.]

Sincerely,
[Your Name]