#StandWithTracy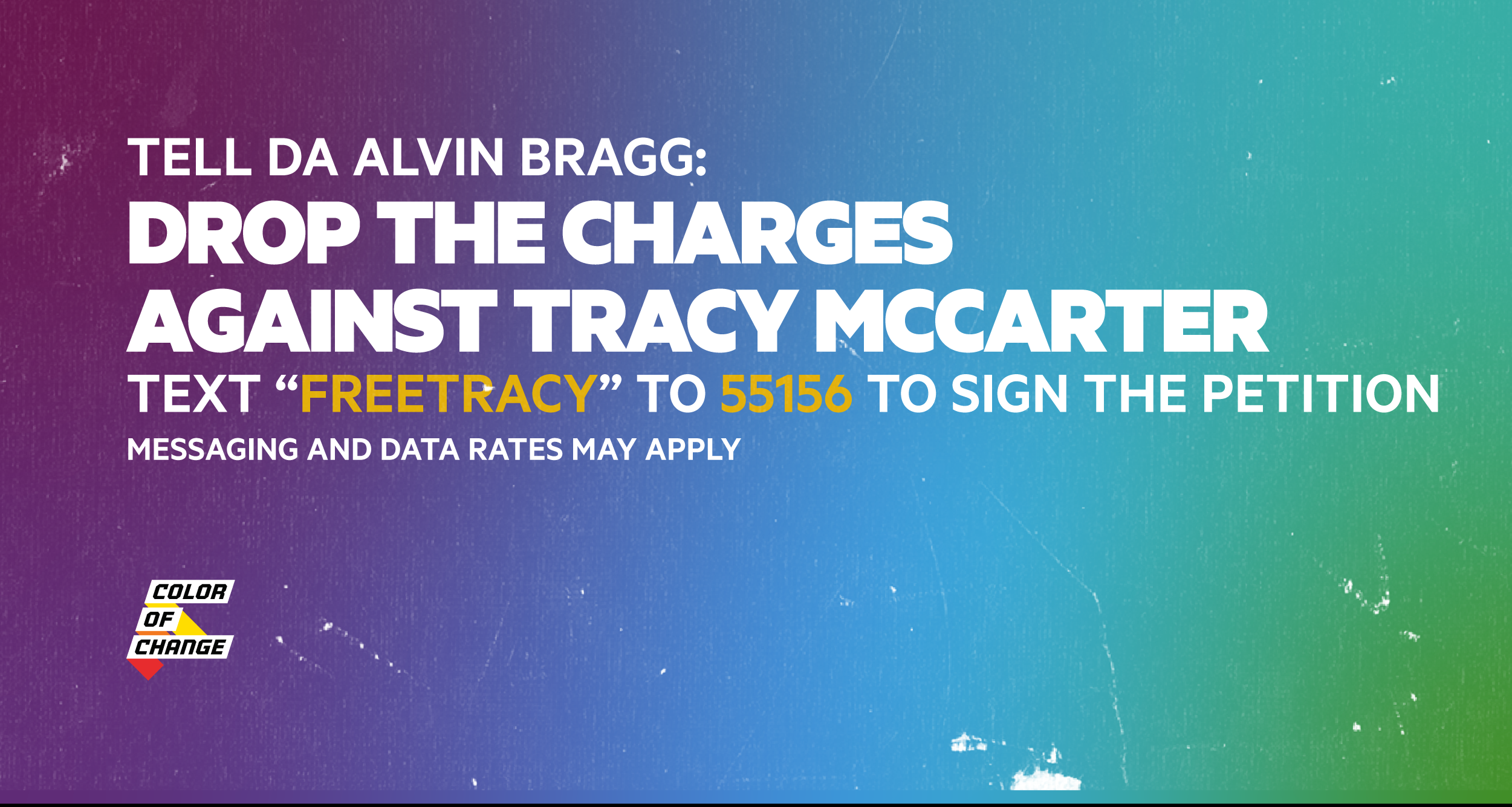 Tracy McCarter, is a Black mother, grandmother, and trained nurse from New York, who is facing criminal prosecution for the death of her estranged husband, James Murray.
In the summer of 2019, Tracy separated from Murray, who is white, after he repeatedly struck, kicked, and choked her. During their separation his drinking worsened and his violence escalated. In March 2020, Murray was drunk and assaulted Tracy, which resulted in his death.
Despite evidence of Tracy calling the police and  providing first aid until the paramedics arrived, she was wrongfully arrested for murder. The 44-year old nurse was jailed on Rikers Island for seven months without an option for release during the height of the COVID-19 pandemic. 
In September 2020, the Manhattan District Attorney's office finally consented to her release on GPS monitoring by way of an electronic shackle. However, e-incarceration has made it impossible for Tracy to continue working as a healthcare professional, complete her advanced degree at Columbia University, seek the treatment she needs to recover, or visit her family, including her first grandchild who was born while Tracy was incarcerated. 
Newly elected Manhattan DA Alvin Bragg, a former civil rights attorney, campaigned on the need to balance public safety and fairness. During his election campaign, Bragg even publicly declared his support for Tracy, "I #StandWithTracy. Prosecuting a domestic violence survivor who acted in self-defense is unjust." Nevertheless, DA Bragg has remained silent on the case in the months since taking office. 
According to Leigh Goodmark, the Director of the University of Maryland's Gender Violence Clinic, "Black women are disproportionately represented among victims of violence who are arrested because the system is only responsive to the perfect victim." —someone who is white, cisgender, and middle class. And in New York, 90% of incarcerated women have been subjected to domestic violence— a pattern of power and control that limits survivors' choices.
District Attorney Bragg has the power to end the cycle of criminalizing survivors of domestic violence. That's why we're asking you to sign our petition, help amplify our demand for District Attorney Bragg to truly #StandWithTracy, and drop all charges against her immediately. 
 Below is the letter we'll send to District Attorney Alvin Bragg: 
Here is the Petition:
Dear District Attorney Bragg, 

When you ran for Manhattan District Attorney, you voiced your support for Tracy McCarter; however, you have taken no action to drop her charges.

Tracy's only "crime" is surviving the attack. If she had been killed, she would be the victim. DA Bragg, we need you to do the right thing and be the prosecutor you promised you would be. Not just for Tracy but for all people who are criminalized in Manhattan. To truly #StandWithTracy, as you claimed you would during your election, you must drop all charges against her immediately.

I'm standing with Tracy because Black women are more than twice as likely to be killed by their partner as white women, but they are disproportionately prosecuted for defending themselves and daring to survive it. 

Tracy is being prosecuted by your office simply because she refused to die. That's why we're asking you to use your power to dismiss this case. You promised to use your prosecutorial discretion to defend, protect, and free survivors of domestic violence and that starts with freeing Tracy immediately.  



Sincerely, 

Your Name