I stand in solidarity with Chicago's teachers!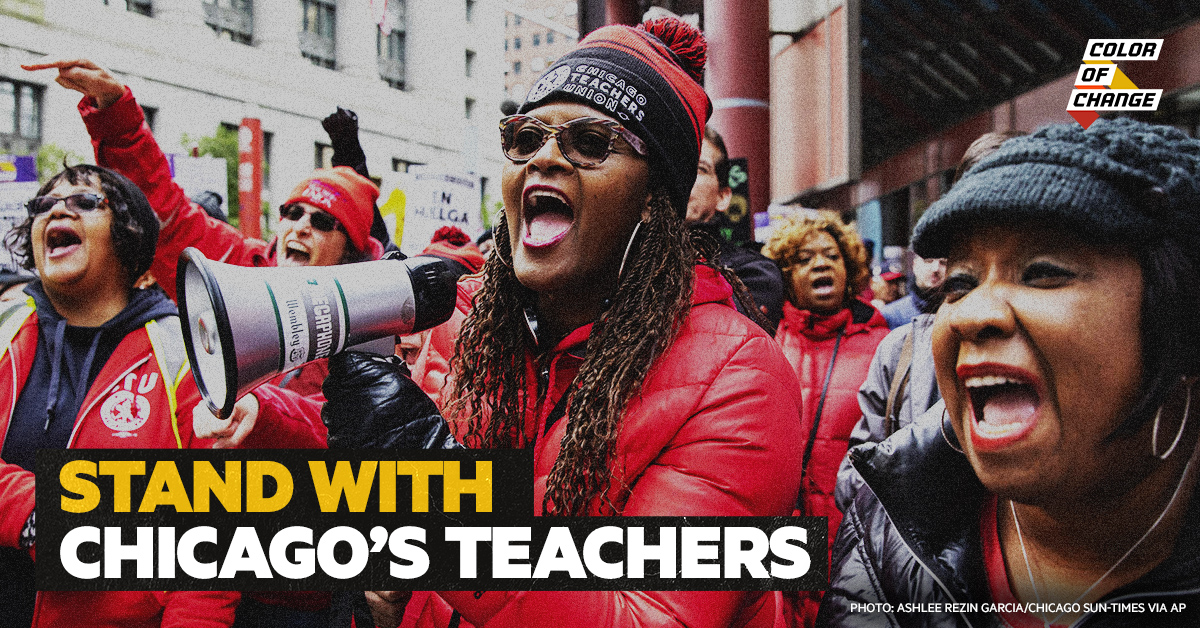 Teachers in Chicago are fighting for children's lives and they are not backing down! Today marks the 11th day of cancelled classes for over 360,000 Chicago students. Teachers and support staff have taken to the streets, marching and protesting until they can secure bold, transformative investment in the Chicago public education system. These educators are fighting not just for themselves, but for children's futures — the vast majority of whom are Black and Latinx.
Throughout the weeks, the teacher's union has been in negotiations with first-time Mayor Lori Lightfoot, who pledged during her campaign to boost investment in neighborhood schools. The teachers are demanding that she put this commitment in writing in their contracts, but their top demands have yet to be met.
Teachers are the backbone of our nation — they prepare children to become adults and members of society. Their work goes well beyond the classroom. They often act as counselors, mentors, and the most trusted adult in kids' lives besides a parent. Many teachers find themselves spending their own time and money outside of work to create lessons, grade papers, and tailor instructions to the various needs of their students. Yet these professionals are subject to inadequate working conditions while serving the most vulnerable citizens — our children.
Chicago's students and teachers have suffered for too long and it is time to ensure their needs are met.
The wave of teacher strikes across the country — in Arizona, West Virginia, Kentucky, Oklahoma, and Los Angeles — have proven successful, inspiring Chicago's teachers. And they are not going back to work until Mayor Lightfoot meets their needs for better working conditions, smaller classes, and more nurses and counselors. Our children deserve better. 
Stand in solidarity with Chicago's teachers and students. Demand Mayor Lightfoot meet the teachers' working requirements now! 
Here is the Petition:
Dear Mayor Lightfoot,

I urge you to meet the requirements of the Chicago Teachers Union and put our teachers back to work.

The children of Chicago are suffering the most in all of this. You have the opportunity to change these inadequate conditions for them. The demands of the teachers are primarily about the students — their access to nurses, counselors, and other support staff; smaller classroom sizes, in which effective learning can take place; and fair pay and benefits for those who serve children.

Over 360,000 Chicago students have already missed eleven days of school. We implore you to end the negotiations today and meet the requirements of Chicago's teachers.