Join us at our Black Mamas and Caregivers Homecoming Celebration!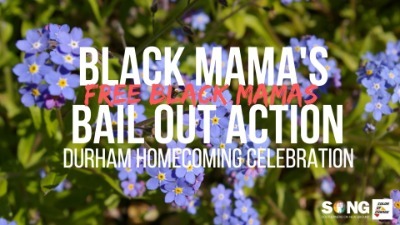 WHEN:  
Mother's Day
Sunday, May 12, 3pm-7pm
WHERE:
Durham Central Park
501 Foster St, Durham, North Carolina 27701
WHAT:
We are joining with Southerners on New Ground (SONG) to #freeBlackmamas on Mother's Day. We will be celebrating the homecoming of Black Mamas and caregivers who are released during our Bail Out Action with a community cookout in the park. Music, food, a bouncy house, and freedom!
Come early for free Locopops, Wonderpuff Cotton candy and BBQ!!!
*Vegan options available.
In the days before Mother's day, a collection of over a dozen local base building and national organizations will bail out as many mothers as possible, who without our support would spend Mother's Day in a cell because they are unable to afford bail. The National Black Mama's Bail Out Day will give incarcerated mothers an opportunity to spend Mother's Day with their families, highlight the impact of inhumane and destructive bail practices on our communities and support the base-building of local organizations working with communities on the frontlines of mass incarceration. After we bail out Black mamas and caregivers come celebrate with us!
Sign up to let us know you'll be there!