Justice for Andrew Brown Jr: Tell District Attorney Womble to Resign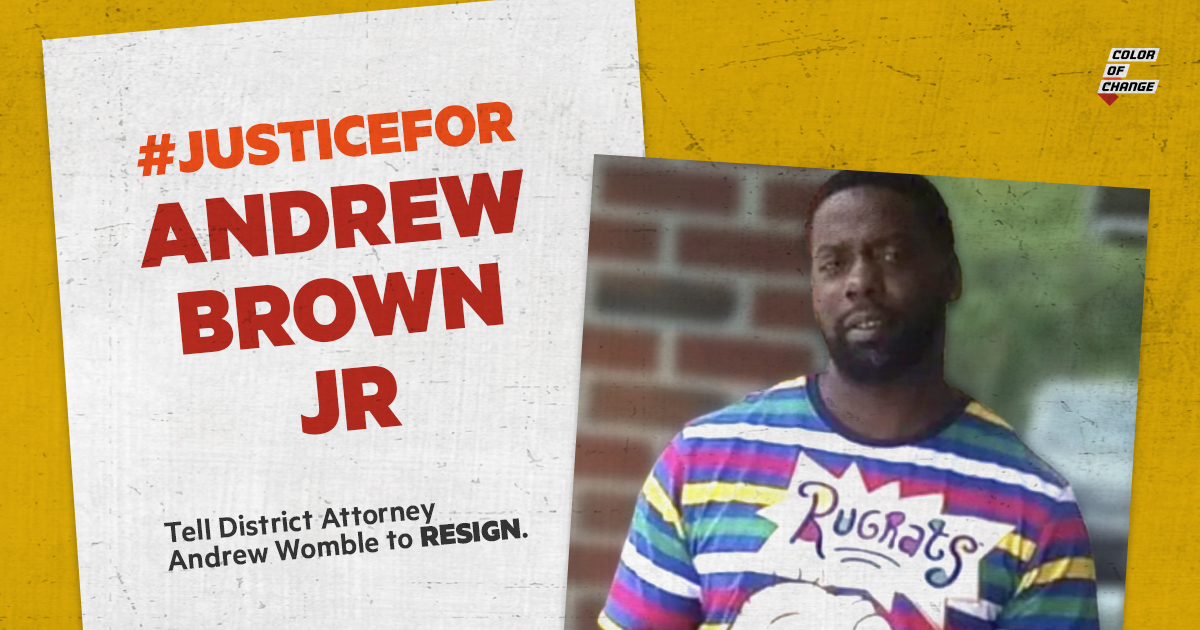 Andrew Brown Jr. was murdered by Pasquotank County sheriff's deputies less than a month ago, and this week we learned that the District Attorney refuses to hold his killers accountable. Elected officials who cover up the murder of Black people do not deserve the public's trust. Tell District Attorney Andrew Womble to resign.
Over the past month, District Attorney Womble has fought every step of the way to keep what happened to Andrew Brown Jr. hidden from the public. Immediately after Andrew's murder Womble fought to keep body camera footage hidden from the public. Then, he relied on the State Bureau of Investigation's closed-door report, to make the decision to let Andrew Brown Jr.'s murderers go free. He even called Andrew's murder "justified".
The same day District Attorney Womble announced his decision, we learned that the deputies who killed Andrew Brown Jr. would be reinstated and placed back on duty. District Attorney Womble has repeatedly shown that he cannot be trusted to represent the interests of Black people in his district -- or the state of North Carolina. Sign our petition: Demand that District Attorney Andrew Womble resign
Here is the Petition:
Dear District Attorney Womble,

I am extremely disheartened by your handling of the murder of Andrew Brown Jr. By Pasquotank County sheriff's deputies. You have lost the trust of your constituents and all North Carolinians. I am calling for you to immediately resign.

Over the past month, you have repeatedly fought to keep what happened toAndrew Brown Jr. hidden from the public. From fighting to keep body camera footage hidden from the public to relying on the State Bureau of Investigation's closed-door report, the lack of transparency of your investigation leaves many questions without answers. Men like Andrew Brown Jr. are being killed every day, and your lack of transparency and accountability are protecting their murderers.

You have repeatedly shown that you cannot be trusted to represent the interests of Black people in your district, District Attorney Womble. I am calling on you to resign.

Sincerely,
[Your Name]