Haiti is facing a major crisis. Tell Biden to redesignate Haiti for TPS today.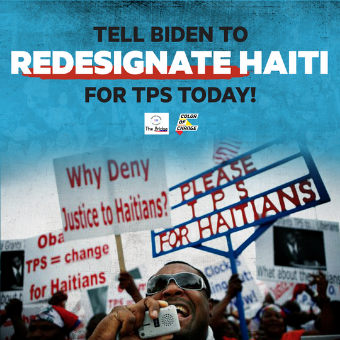 Black immigrants need our help. And we can no longer allow them to be rendered invisible in our narratives about migration and racial justice.  
Thousands of Haitian migrants -- many of whom have been on the frontlines during the pandemic as healthcare workers, caregivers, and farm workers -- are at risk of deportation unless the Biden administration redesignates Temporary Protection Status(TPS) for them immediately. 
TPS is granted to communities when the U.S. government determines the political and socioeconomic conditions in a person's home country pose life-threatening danger if one was to be deported. 
The current situation in Haiti is currently so unstable, fragile and dangerous that even President Biden has acknowledged Haitians "may face harm" if they return home. 
It would be unconscionable and immoral to send Haitian immigrants back to Haiti right now. The Biden administration has the power to help protect Haitian immigrants already living in the U.S., but we need to move the administration to action.
Sign our petition and tell President Biden and Secretary of Homeland Security Alejandro Mayorkas to redesignate Haiti for TPS.  
In 2010, an earthquake in Haiti killed over 250,000 people. Later that year, United Nations peacekeeping soldiers, stationed in Haiti to aid with the aftermath, started a cholera outbreak that only further devastated the country's fragile public health infrastructure. 
Haiti was first granted TPS following the earthquake, and many have been living, working and paying taxes in the U.S since. But the situation in Haiti has only worsened over the past few years.
In addition to climate crises, Haitians are currently living under an oppressive, U.S.-backed government led by an increasingly authoritarian president, Jovenel Moise, who has been ruling unconstitutionally for over a year. 
Despite worsening conditions, the Trump administration tried to end TPS for Haitians in 2017 after referring to Haiti, a majority Black nation, and several places in Africa as "shithole countries." Two court injunctions blocked Trump from ending TPS, calling his actions against Haitians racist. But we still need President Biden to officially redesignate TPS status in order to protect all Haitians living in the U.S. from the threat of deportation. 
The time has come for the Biden administration to keep its promises to the Haitian community, stand up against global anti-Black racism, and disavow Trump's bigoted, racist and discriminatory policies against Black immigrants. 
Sign our petition and tell President Biden and Alejandro Mayorkas to redesignate Haiti for TPS today.
 Below is the letter we'll send to President Biden and Homeland Security Secretary Alejandro Mayorkas:
Here is the Petition:
Dear President Biden and Secretary of Homeland Security Alejandro Mayorkas,

Color Of Change, in partnership with The Haitian Bridge Alliance and other organizations, is calling on you to support Haitian communities fleeing economic, political, and climate disasters. You have the power to redesignate Haiti for Temporary Protection Status(TPS) today and protect so many Black immigrants, essential workers, and asylum seekers living in the United States. Your commitment to racial justice and human rights must extend to Black migrants. By redesignating Haiti for TPS, you could help to protect so many vulnerable Black migrants from deportation to a country in turmoil. We hope you'll take the necessary steps to protect Haitian communities in the United States by redesignating Haiti for TPS today.