Black and low-income workers are hurting. Demand that Congress enact a LIVING WAGE! #RaiseTheWage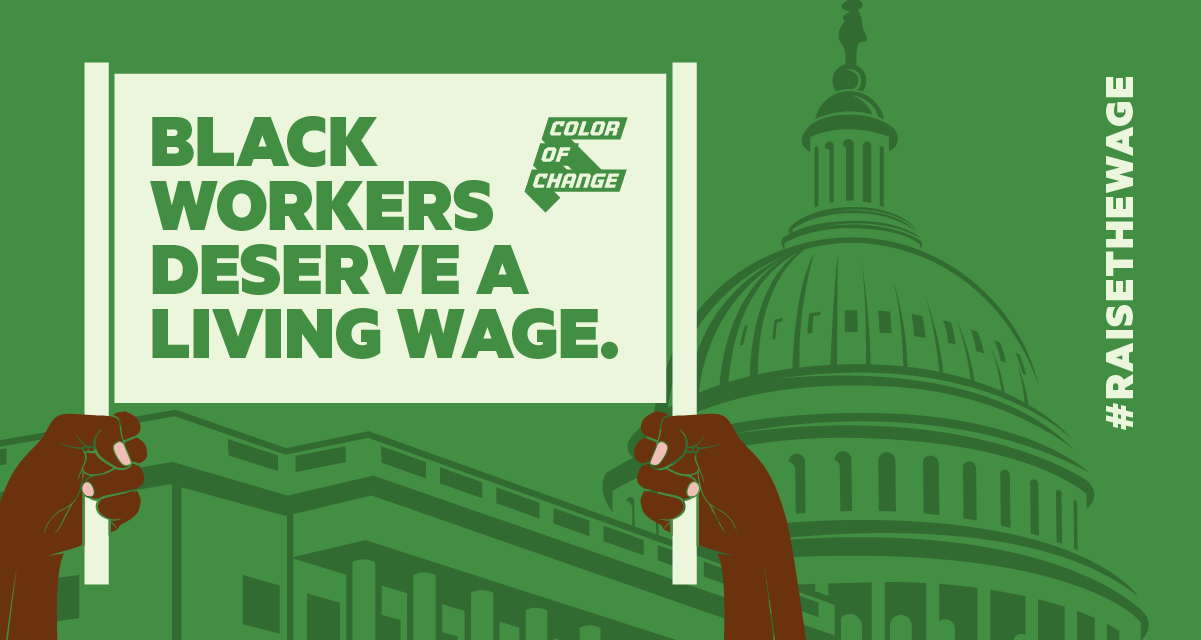 For over a decade, the federal minimum wage has remained unchanged at just $7.25 an hour. As Black and low-wage workers deal with mounting bills and limited income, Congress has continually refused to make cost-of-living adjustments (up 20% since 2009) or even address how our communities are disproportionately impacted by the minimum wage. Now Congress has finally put forth a $15 federal minimum wage bill that, if passed, would benefit over 33 million workers. 
BUT, the law will not be phased in and fully effective until 2025. While long overdue, the $15 minimum wage does little to relieve Black and low-wage workers of housing insecurity, crippling medical debt, and hunger in the present. We elected our representatives to fight for Black people and working families in the here and now. Black and low-wage workers deserve a living wage—a better wage—sooner than 2025.  
To afford a two-bedroom rental home anywhere in the United States, the average worker must earn at least $23.86 an hour. Less than both the current and proposed minimum wages, today's workers must work nearly 97 hours weekly—equivalent to two full-time jobs—just to maintain a place to live. That's why the entire conversation around minimum wage needs to shift to ensure our folks have a living wage that allows for a better standard of living. The struggle to afford rental housing is not confined to folks making minimum wage.
Amongst the most important workers during the COVID-19 pandemic, grocery store cashiers earn a median wage of just $11.61 per hour, while building cleaning workers and personal care aides earn $12.49. These essential workers, disproportionately Black, have used payday loans to cover commuting costs, out-of-pocket medical expenses, and even personal protective equipment (PPE). Congress has failed working families and forced our communities into never-ending debt spirals.
Black and low-wage workers should be able to meet basic necessities without working multiple jobs, risking their lives, or entering into predatory lending arrangements. Contrary to popular—and misinformed belief—raising the minimum wage will not hurt small businesses or cause inflation. Studies show the opposite and that a living wage supports us all. That's why we're calling on Congress to enact a LIVING WAGE indexed to inflation and asking that you do the same.
Below is the letter we will send to members of the 117th United States Congress:
Here is the Petition:
Dear Congress Members:

Since 2009, U.S. Congress has refused to make cost-of-living adjustments to the federal minimum wage ($7.25/hr), forcing many Black and low-income earners into poverty, crippling debt, and homelessness. 

While the $15 Minimum Wage Bill marks a near-double increase in the federal minimum wage, the law will not be phased in, and fully effective, until 2025. Black and low-wage workers are hungry now, being forced into predatory lending arrangements today, and are not certain they will have a place to live come tomorrow. 

As our elected officials, you all have an obligation to fight for the Black community and working families. So as the nation's largest online racial justice organization, Color Of Change is demanding that Congress enact a living wage indexed to inflation effective immediately.


Sincerely,

[Your Name]