Demand that major corporations implement hair policies that protect Black employees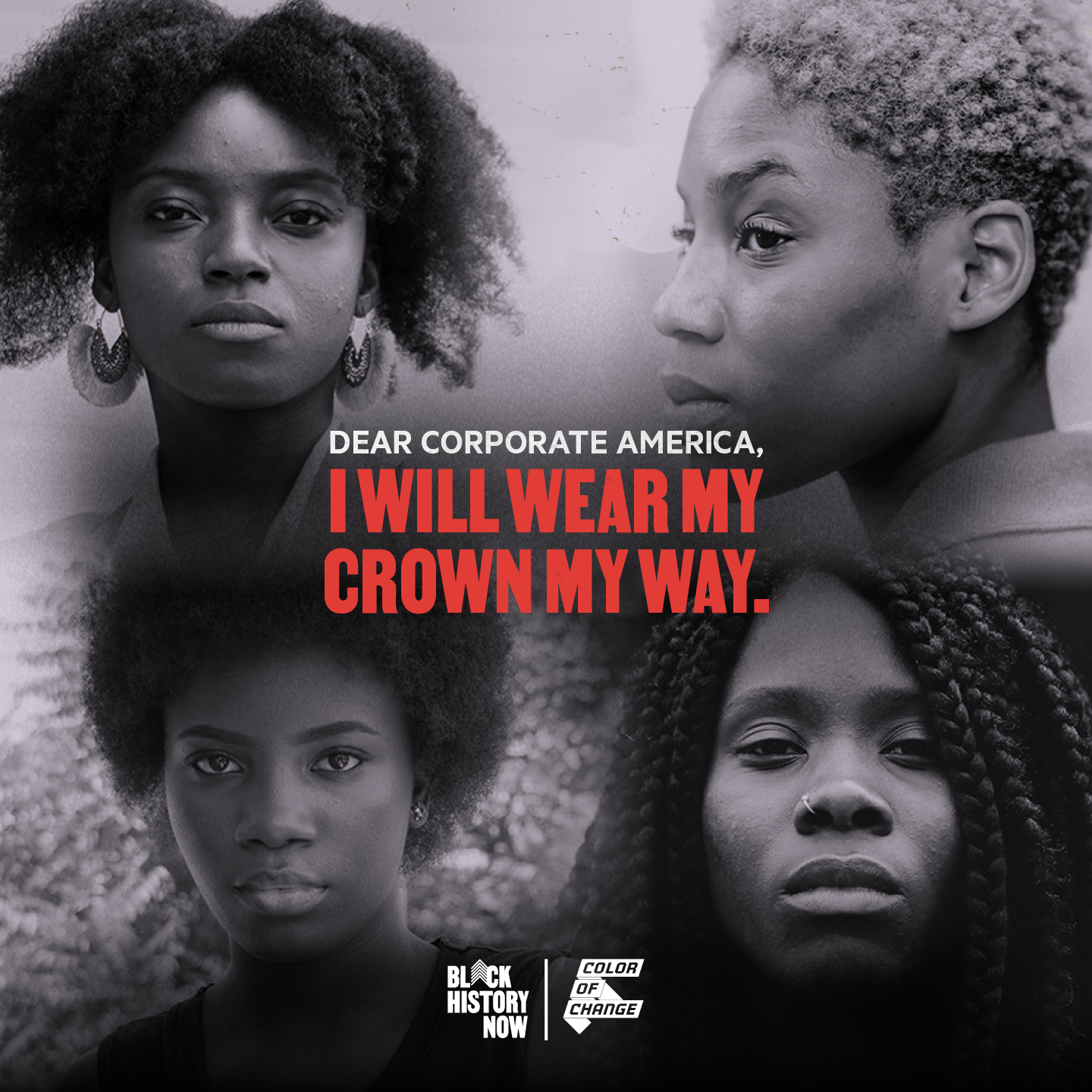 Natural hair discrimination is racial discrimination, and it attacks the livelihood and economic vitality of Black communities, especially Black women. A 2020 study found that Black women with natural hairstyles are less likely to get job interviews than white women or Black women with straightened hair. And a 2019 survey revealed that Black women were 1.5 times more likely to have been sent home, or know of a Black woman sent home, from the workplace because of her hair. Black women are being denied equal employment opportunities and unfairly disciplined for wearing their natural hair-- potentially leading to job insecurity, loss of wages, and even extended periods of unemployment.  With their economic survival tied to their hair textures and styles, Black women are 80 percent more likely to alter their hair from a natural state to fit into workplace culture and meet expectations around "professionalism."
But notions of professionalism are racist in origin. In the 18th century, British colonists classified afro-textured hair as "closer to sheep wool than human hair," contributing to the systematic dehumanization of enslaved Black people and setting the precedent that afro-textured hair was "undesirable." And in the 19th century, enslaved Black people with afro-textured hair and deeper complexions were subject to harsher,  more dangerous working conditions than those with more eurocentric features. Contemporary corporate policies and practices are no different. Some corporations use racially coded language (e.g., "matted" or "unkempt") when referring to afro-textured hair, while others entrust low-level managers with the authority to send Black employees home for wearing locs. The result: Black women are 30 percent more likely to be made aware of a formal workplace policy and 83 percent more likely to report being judged for their appearance.
Now more than ever, major corporations must take action. As of 2022, it is still completely legal to discriminate against Black people for wearing their natural hair-– in all but 14 states. And unless industry leaders take action, Black women will continue to be judged for simply existing as themselves. Join us in demanding that these corporations update their grooming standards and appearance policies to remove any racially coded language and include explicit protection for afro-textured hair and associated protective hairstyles! #MyCrownMyWay
Here is the Petition:
Dear Executives:

Based on long-held stereotypes, afro-textured hair and associated hairstyles are often regarded as "unprofessional," "unkempt", and thus unacceptable in the workplace. This creates an unwelcoming, hostile environment for Black folks--specifically Black women-–who are forced to choose between employment opportunities (e.g., securing a job or working a full shift) and wearing their natural hair. According to the 2019 CROWN Research Study, Black women are less likely to secure job interviews when wearing their natural hair, and more likely to experience disciplinary action for violating corporate grooming standards and policies.

As a major U.S employer, we strongly urge your corporation to take meaningful action to eradicate natural hair discrimination within the workplace. This requires:
1. Updating your corporation's grooming standards and appearance policies to remove any racially coded language of professionalism, 
2. Including explicit protection for afro-textured hair and associated protective hairstyles (e.g., braids, locs, twists, afros, etc.)

In doing so, your corporation would promote fairness in its hiring practices and retain a more talented and diverse workforce, as well as contribute to a culture of inclusivity and acceptance amongst its employees and society at large.