Tell these tech companies to divest from ICE & CBP operations.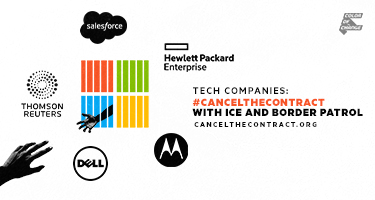 The Trump administration's 'zero tolerance' policy has left thousands of children alone in a foreign land, separated from their families and caregivers. The disastrous policy is cruel and a violation of human rights. And there were American companies profiting off of it and continuing to profit off of Trump's xenophobic agenda. The act of separating and detaining families would not be possible without a massive bureaucratic and logistical machine behind it.

Several tech companies have contracts with Immigration and Customs Enforcement (ICE) and Customs and Border Protection (CBP), the federal law enforcement agencies who are enacting violence on brown and Black people at the border and within the interior of the US.

For example, Microsoft has a $19.4 million dollar contract with ICE. In a January 2018 blog post, Microsoft boasted about how Azure, it's cloud computing services, which can range from hosting a customer's data to facial recognition, was making the agency more efficient. According to Microsoft's own communications, their product is "mission-critical" to ICE's operations. We demand Microsoft stop enabling ICE's mission to punish families seeking safety and an acknowledgement that technology serves a critical function in Trump's agenda to criminalize migration.

We are calling on all tech companies currently supporting the operations of ICE and CBP to cancel their contracts.

Microsoft, Salesforce, Thomson Reuters, Hewlett Packard, Motorola, and Dell are all complicit in and profiting from a mass incarceration and deportation scheme hatched by a white supremacist presidential administration.

Salesforce: Salesforce signed a contract with CBP to build custom software for hiring purposes. CBP is using a product called Community Cloud to "increase core human resources information technology capabilities for current and prospective employees, while at the same time, driving efficiencies throughout the process." They are also using Salesforce Analytics and Service Cloud.

Thomson Reuters: $6.8 million for four contracts with ICE to provide support to ICE in its "mission to locate, arrest, and remove criminal aliens that pose a threat to public safety." The information they provide is crucial to funnel immigrants into Operation Streamline, the trial system designed to deport immigrants en masse.

Hewlett Packard Enterprise: $75 million contract with CBP to manage its network operations center. The company also is in the middle of completing a $39 million contract with ICE, among other, smaller bids.

Motorola Solutions: $3 million for a "core upgrade/GPS project/mobility project," which is further categorized in documents as "integrated hardware/software/services solutions." ICE also awarded the company a contract for a "tactical communications program" with a potential award amount of $15.3 million.

Dell: $22 million in active contracts with ICE. Most of the contracts are software licenses. The company also provides support for Microsoft products used by the agency.

Each company has a moral responsibility to refuse to uphold contracts that lead to the violation of human rights or at the very least not to turn a profit from a client actively traumatizing children and families.


Below is the letter we will send to the leadership of each of the above named tech companies:
Here is the Petition:
Dear CEO,

It is time to cancel your contract with Immigration and Customs Enforcement (ICE) and/or Customs and Border Protection (CBP). Tech companies have a moral responsibility to ensure that their products are not used to violate human rights.

Your products and services contribute to federal law enforcement operations by supporting bureaucratic workloads. The violence we are witnessing against brown and Black people by ICE and CBP would not be possible on such a mass scale without your corporation's support. You have an opportunity to stand with impacted communities who are demanding justice and tech employees who are protesting their company's decisions-- not only to urge the administration to change their policy, but also, to refuse to be complicit in traumatizing families.

You must cancel your corporations contract with ICE and/or CBP immediately.