Tell your Senator: Confirm Ketanji Brown Jackson Right Away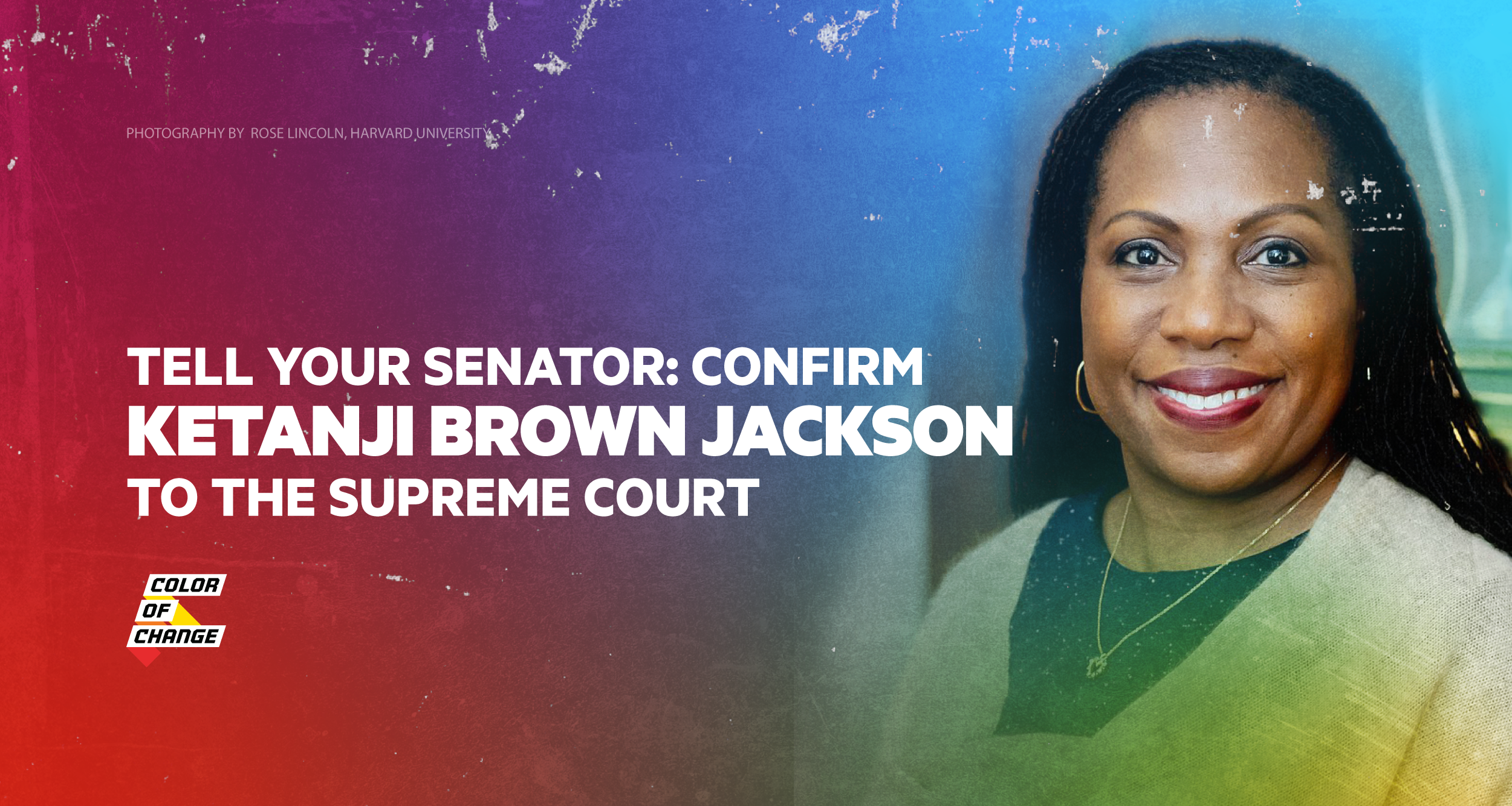 President Biden has named United States Circuit Judge Ketanji Brown Jackson as his choice for the Supreme Court Justice and we need your help to make sure she's confirmed as soon as possible.
Don't be fooled by racist conservatives. Judge Jackson has earned her nomination and she promises to bring a unique perspective to future rulings by the Court. If confirmed, Jackson would also become the first public defender to sit on the Supreme Court, and she spent years working to overturn wrongful federal convictions. She became a federal judge in 2013 and made rulings that protected collective bargaining rights for federal employees and forced transparency in the Trump administration.
The Supreme Court rules on every issue that affects our lives: healthcare, education, immigration, criminal justice, voting rights, reproductive justice, environmental justice and more. In a time when voting rights and access to abortion is under threat, it will be important to confirm a Supreme Court Justice that will defend our civil rights.
Senate Republicans have made it clear that they will do everything in their power to obstruct this confirmation process. After Mitch McConnell stole a Supreme Court seat from President Obama and pushed through the nominations of Brett Kavanaugh and Amy Coney Barrett, it's clear that he will hijack the Court by any means necessary. We can't let Mitch McConnell win. It's time for this country to recognize the contributions that Black women have made to the pursuit of justice!
Here is the Petition:
Dear Senator,
I am one of your constituents and I am calling on you to confirm Ketanji Brown Jackson to the Supreme Court as soon as possible.

Joe Biden has officially nominated Ketanji Brown Jackson to the Supreme Court – fulfilling a campaign promise to nominate a Black woman to the highest court in the land. The credibility of Black women like Anita Hill has been undermined by the Senate in the past, this senate must commit to running a fair and swift confirmation process.

Judge Jackson has earned her nomination and she promises to bring a unique perspective to future rulings by the Court. If confirmed, Jackson would also become the first public defender to sit on the Supreme Court, and she spent years working to overturn wrongful federal convictions. She became a federal judge in 2013 and made rulings that protected collective bargaining rights for federal employees and forced transparency in the Trump administration.

The Supreme Court rules on every issue that affects our lives: healthcare, education, immigration, criminal justice, voting rights, reproductive justice, environmental justice and more. In a time when voting rights and access to abortion is under threat, it will be important to confirm a Supreme Court Justice that will defend our civil rights. That's why I'm calling for you to confirm Ketanji Brown Jackson!


Sincerely

[Your Name]