Keep PG County Court Watch Virtual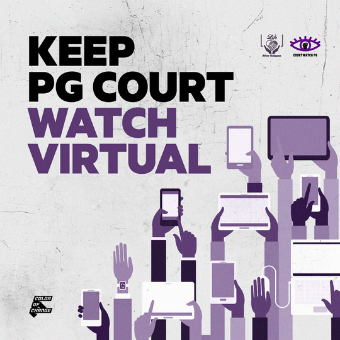 Court watching is a crucial way for communities to bear witness to legal hearings, stand in solidarity with targeted communities and loved ones, ensure that the criminal justice reforms we have been fighting for are being properly implemented, and demand accountability from public officials. 
But attending a court hearing is not always possible in places like PG County, Maryland where public transportation is limited, courtrooms are inaccessible, and people have work and family responsibilities. 
When courts transitioned to virtual during the pandemic, so did Courtwatch PG. And now community members are able to exercise their constitutional rights to a transparent and public hearing in a safer and more accessible way. 
But now officials in PG County have indicated plans to end virtual court watching, cutting off access to family members and court watchers supporting directly impacted people in the midst of a pandemic.  
Let's keep our communities safe as we stand in solidarity with those who are targeted by the criminal justice system, and hold our courts accountable. 
Sign our petition to tell the PG County District Administrative Judge, Lisa A. Hall Johnson to make virtual court watching a permanent program.

Below is the letter we will send to Judge Lisa A. Hall Johnson
Here is the Petition:
Judge Lisa A. Hall Johnson, 

Color Of Change, in partnership with Courtwatch PG and Life After Release, is calling on you to keep virtual court watching access open year-round. Remote court watching helps ensure that the court process is done in a way that is transparent, and ensures that our public officials are accountable to us. It also helps community members become better educated on how legal proceedings work and allows them to exercise their constitutional rights to a transparent and public hearing in a safe and accessible way. At a time when so many people are struggling to make ends meet, it's not always possible to forego work or family responsibilities to attend a hearing. Virtual court watching gives us the opportunity to show up for each other and participate in the legal process, without additional stress like having to miss a work shift or arrange childcare.

We hope you'll continue to support this crucial program for PG County, and keep virtual court watching open.