Demand Brian Kemp take his finger off the scales of the Georgia election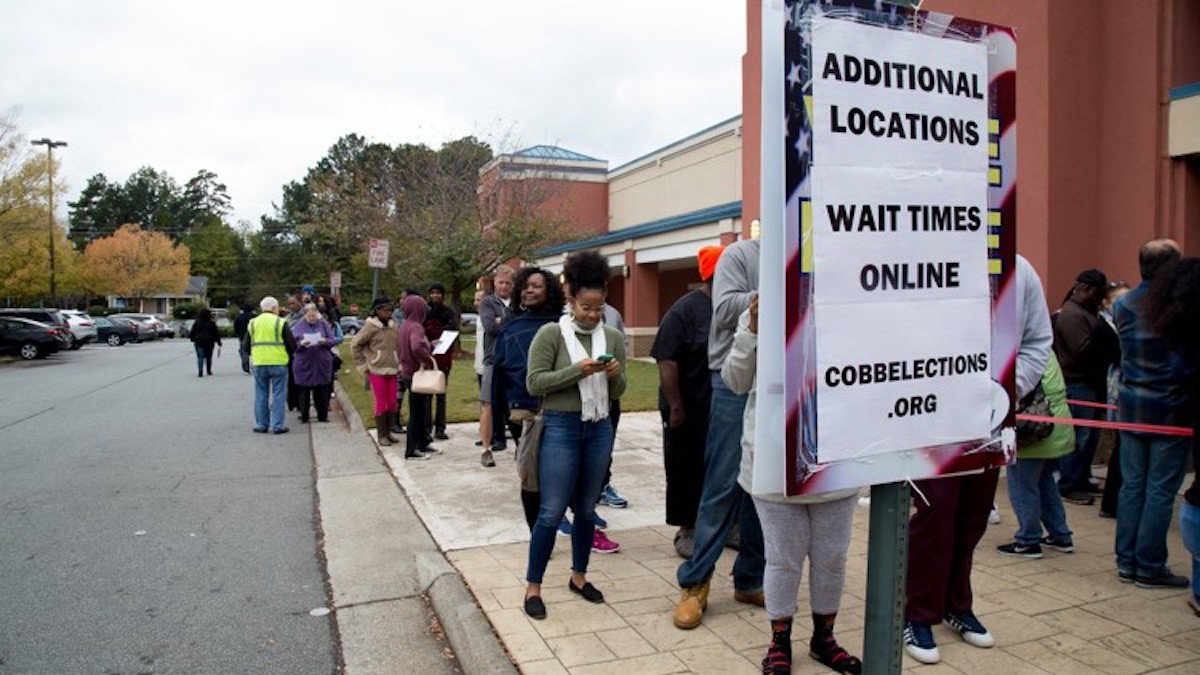 UPDATE: Brian Kemp has announced he will resign his position as Secretary of State tonight.
The governor's race in Georgia is not over yet! Stacey Abrams is just a few thousand votes shy of forcing a runoff election. With at least 77,000 absentee and provisional ballots from majority Black and Democrat leaning counties yet to be counted it is all but certain that this race will head into a runoff! As long as votes remain to be counted and voices remain to be heard this election is not over.
Brian Kemp's voter suppression regime has been in overdrive to tip the scales in his favor by ensuring many Black voices, including the outstanding ballots, go uncounted. From precincts locking out voters, to missing and malfunctioning voting machines, to 5+ hour lines, to polling locations opening late, to blocking a 92 year old Black woman from casting her ballot Kemp's voter suppression tactics blocked thousands from voting and being fairly counted. For many Black voters yesterday, Kemp's regime forced thousands of Black voters to cast provisional ballots, which Kemp could refuse to count. That's on top of his efforts to cancel more than 650,000 registrations last year, and more than 85,000 registrations of disproportionately Black voters through August 1 this year. If the Georgia race had taken place in another country the U.S. State Department would have immediately questioned its legitimacy.
Kemp cannot benefit from his own refusal to effectively administer this election. He has rigged the game and the only fair remedy is to proceed to a runoff and to cede the power to administer that runoff to an outside authority. In Georgia, civil rights has always been an act of will, and it will take the will of our entire nation-wide community to ensure every Black vote in Georgia is counted.
Demand Brian Kemp immediately resign as Secretary of State to salvage a more democratic final vote count and the ensuing runoff election.
Below is the letter we will send to Brian Kemp: 
Here is the Petition:
Dear Brian Kemp,

As the Secretary of State for Georgia and a candidate for governor it is a deep conflict of interest for you to oversee the counting of outstanding provisional and absentee ballots as well as a runoff election that involves yourself. To refuse to recuse yourself here is a corrupting force on our democracy. It is wholly unjust for you to benefit from your own refusal to effectively administer this election. The only fair remedy is to immediately resign as Secretary of State and cede the power to administer oversight of the final vote count and the runoff to an outside authority.

Sincerely,