Tell BlackRock: Vote NO on Mark Zuckerberg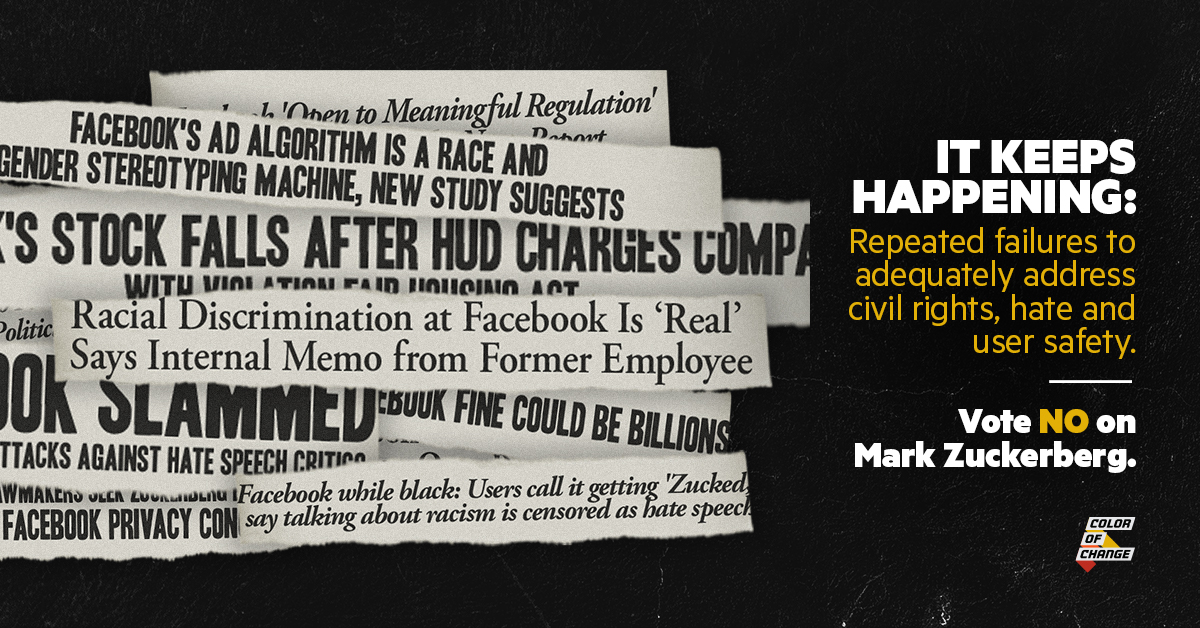 Facebook and Mark Zuckerberg have repeatedly promised to fix their broken policies that have, all too often, allowed open white supremacy to remain while silencing the Black activists who call out anti-Black violence. This is just the tip of the iceberg; Facebook's failure to adequately tackle misinformation, discrimination, violent movements, and data breaches are putting Black users at risk.
It will take more than promises to keep us safe. We must address the dangerous concentration of corporate power that allows Facebook to operate on the whims of a single person.
On May 30th, we have a huge opportunity to demand change at Facebook. One company is key to shaking up Facebook's governance: BlackRock. BlackRock is one of the largest outside shareholders of Facebook. If we can get them to join other major investors in voting against Mark Zuckerberg for the Board of Directors, we will trigger a public reckoning of Facebook's harmful power structure.
Tell one of Facebook's biggest shareholders — BlackRock — to vote NO on Mark Zuckerberg at the shareholder meeting.
Below is the letter we will send to Laurence Fink, CEO of BlackRock: 
Here is the Petition:
Dear Laurence Fink,

Facebook has become a poster child for unaccountable corporate leadership. In the last few years, the company has faced billions of dollars in fines and worldwide investigations, as its platform has been used to undermine the functioning of our democracy and others, while also being used to further marginalize the voices of vulnerable communities.

This harm extends to shareholders. Beyond the dramatic fall in value in 2018, Facebook has offered no comprehensive accounting of its unending scandals and the governance failures that facilitated them, resulting in unnecessarily high volatility and risk for long-term shareholders.

At the root of these problems is Mark Zuckerberg's concentration of power. Zuckerberg has insisted on serving as both CEO and chair, has failed to set up adequate independent governing structures, and retains outsized voting rights—all of which prevent critically-needed accountability at the company. The time has come for change.

In 2018, 35% of independent investors voted against Zuckerberg as chair, including Vanguard. Yet BlackRock failed to do so. Now you have an opportunity to course-correct.

As a supporter of good governance and responsible stewardship, I am asking that you vote NO on Mark Zuckerberg continuing as chair.

Sincerely,