Tell Bankers Financial: Divest from the bail bond industry NOW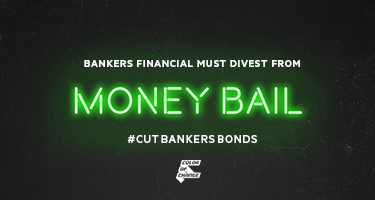 The largest bail industry predator is operating behind closed doors. It's time to shut it down.
Bail--a process meant to guarantee freedom and fairness for people who have not yet been convicted of a crime--has been twisted by corporations to financially exploit people in crisis and keep them in cages. Time spent in jail and away from home and work can result in loss of income, loss of employment, and for single parents of young children, even loss of custody. And while the movement against money bail has been growing, it's time to uncover the root of this invasive industry: the insurance companies behind bail bonds.
Bankers Financial, a company most known for providing insurance coverage against floods and natural disasters, is also operating a bail bonds insurance company called Bankers Surety. Most of us have seen bail bond agencies lined up near jails and courthouses. They look like mom and pop shops run by individuals who claim to help people in a bind. But the truth behind the bail bond industry is that it harms rather than helps communities by trapping families in thousands of dollars of debt with hidden and illegal fees. And the real power players of the industry are companies like Bankers Financial who back bail bonds and extract millions from Black communities at no cost. Last year, an estimated $14 billion was leeched from our communities by bail companies. 
We simply don't need money bail--and with the freedom of millions of people at stake, we must go after the largest companies in the bail industry and shut them down. After we spoke out, Google and Facebook took a huge step towards putting an end to the bail industry by refusing to allow ads from bail agencies on their websites. Now, Senators Cory Booker and Sherrod Brown are inquiring into the business practices of the insurance companies underwriting bonds. We're taking it a step further to demand that Bankers Financial Corporation also cut its ties with the bail industry and close down Bankers Surety. If we can shine some daylight on the ways this insurance company is exploiting communities, Chairman and CEO John Strong will feel the pressure to divest and the roots of the bail industry will begin to shrivel.
Below is what we will send to Bankers Financial 
Here is the Petition:
To John Strong, Chairman and CEO, Bankers Financial Corporation,

We urge you to direct your company to end all ties with the bail industry. We are aware of the interconnected ways that Bankers Financial supports and profits from money bail, a system responsible for incarcerating innocent people before any attempt at due process. We know that the single determining factor for an individual's freedom is their access to wealth. Every penny, nickel, and dime you make at the expense of brown, Black, and cash poor people is a stain on the corporation's reputation that won't wash clean until you divest from the bail bond industry. 

But, most importantly, we want you to understand that we will not stop fighting until the insurance companies underwriting the bail bond industry stop leeching resources out of our communities and leave our people alone-- for good.