Monopolies Are Stifling Black Communities!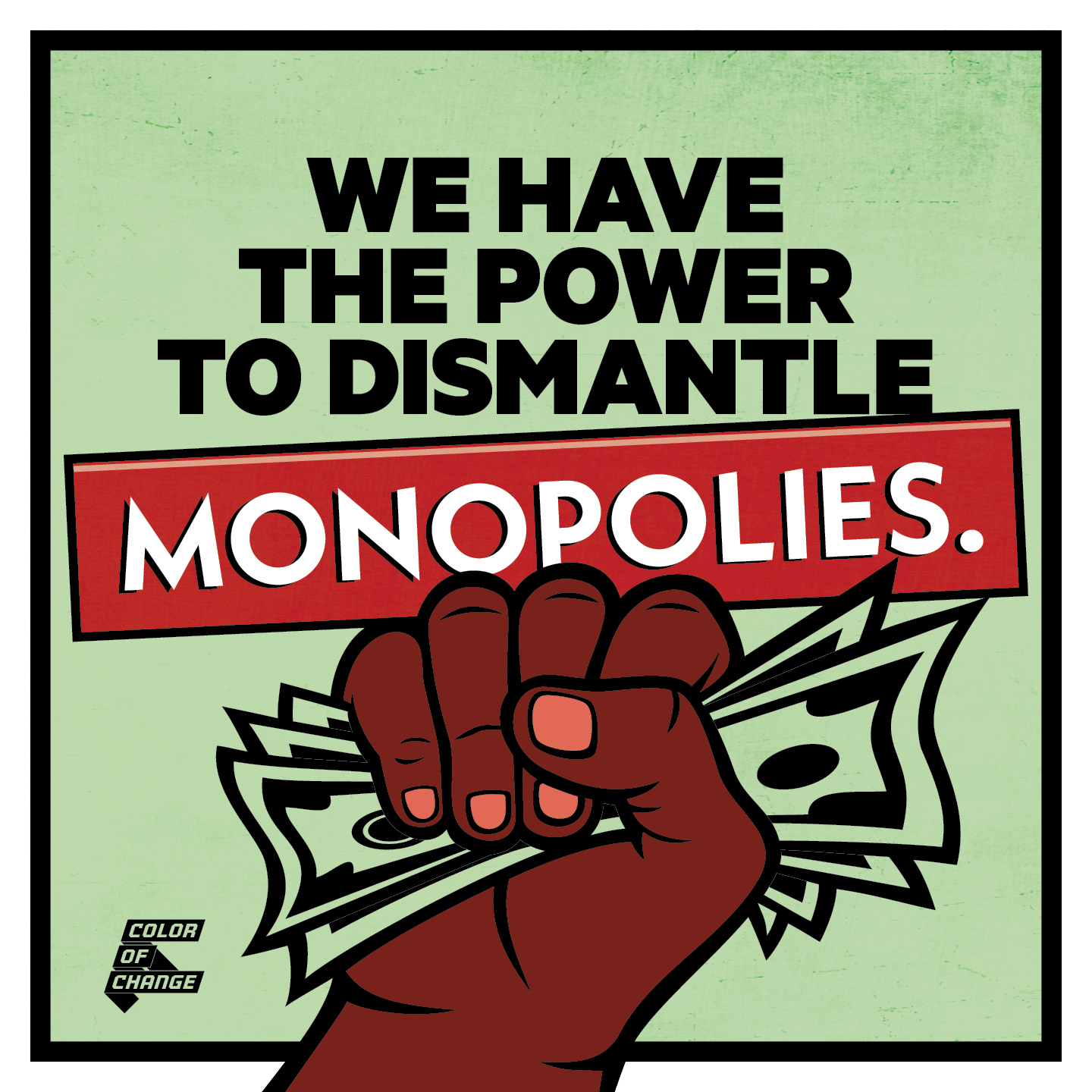 Monopolies put economic justice at risk. We've watched monopolies get bigger and bigger every year. Tech firms like Facebook, Google, and Amazon push smaller businesses out of the market. Hospitals, pharmaceutical companies, and health insurers are consolidating. Larger consumer goods corporations are buying up Black-owned brands. 
Mergers can lead to fewer jobs in our communities and drive up healthcare costs. Firms copy our innovative ideas and take away our audiences. Corporations change the formula and affect the quality of our hair products. 
Monopoly power is why we still see misinformation and voter suppression messages on Facebook and YouTube. Despite warnings from Color Of Change, these companies refuse to protect our communities from hate on their platforms. We saw how quickly online speech turned into an attempted white nationalist coup. This consolidation of power has also driven up the prices for drugs to be unaffordable to those who need it the most. The price of insulin, for example, has jumped at least 300% between 2009 and 2019, which disproportionately impacts Black people who, due to historical inequities, face higher rates of diabetes. Without government reform or competition, we'll continue to see white nationalist violence organized on their platforms and obstructions to healthcare reform.
Our communities have long dealt with the realities of monopolies and anti-competitive businesses. We can push for reform, and demand antitrust policies that break up these monopolies, limit their power, and ensure companies' policies prioritize racial justice. Will you sign our petition demanding that Congress pass the Big Tech antitrust package, develop broader antitrust bills across sectors with stronger racial justice language, allocate $1 billion in funding to the Federal Trade Commission (FTC) privacy bureau, and for President Joe Biden to sign them into law?
Here is the Petition:
To President Biden, Speaker Pelosi, and Majority Leader Schumer,

The House Judiciary Committee advanced a historic antitrust package that signals the first steps to rein in Big Tech. There is bipartisan support for an end to the abuses of Big Tech's monopoly power. Anticompetitive actions disproportionately harm Black consumers, workers, and small business owners by closing our businesses and reducing our choices. 

We urge Congress to vote for these bills and for President Biden to sign them into law. We also urge Congress to develop broader bills with an emphasis on racial justice outside of Big Tech for other sectors, such as healthcare, and allocate $1 billion in funding to the Federal Trade Commission (FTC) privacy bureau. Black communities need robust and dynamic antitrust enforcement. Antitrust must be seen as an indispensable tool to advance racial and economic justice. We need regulation of Big Tech and other monopolies to ensure that our communities can thrive.