Tell President Biden To Advance Racial Equity And Eliminate Student Loan Debt!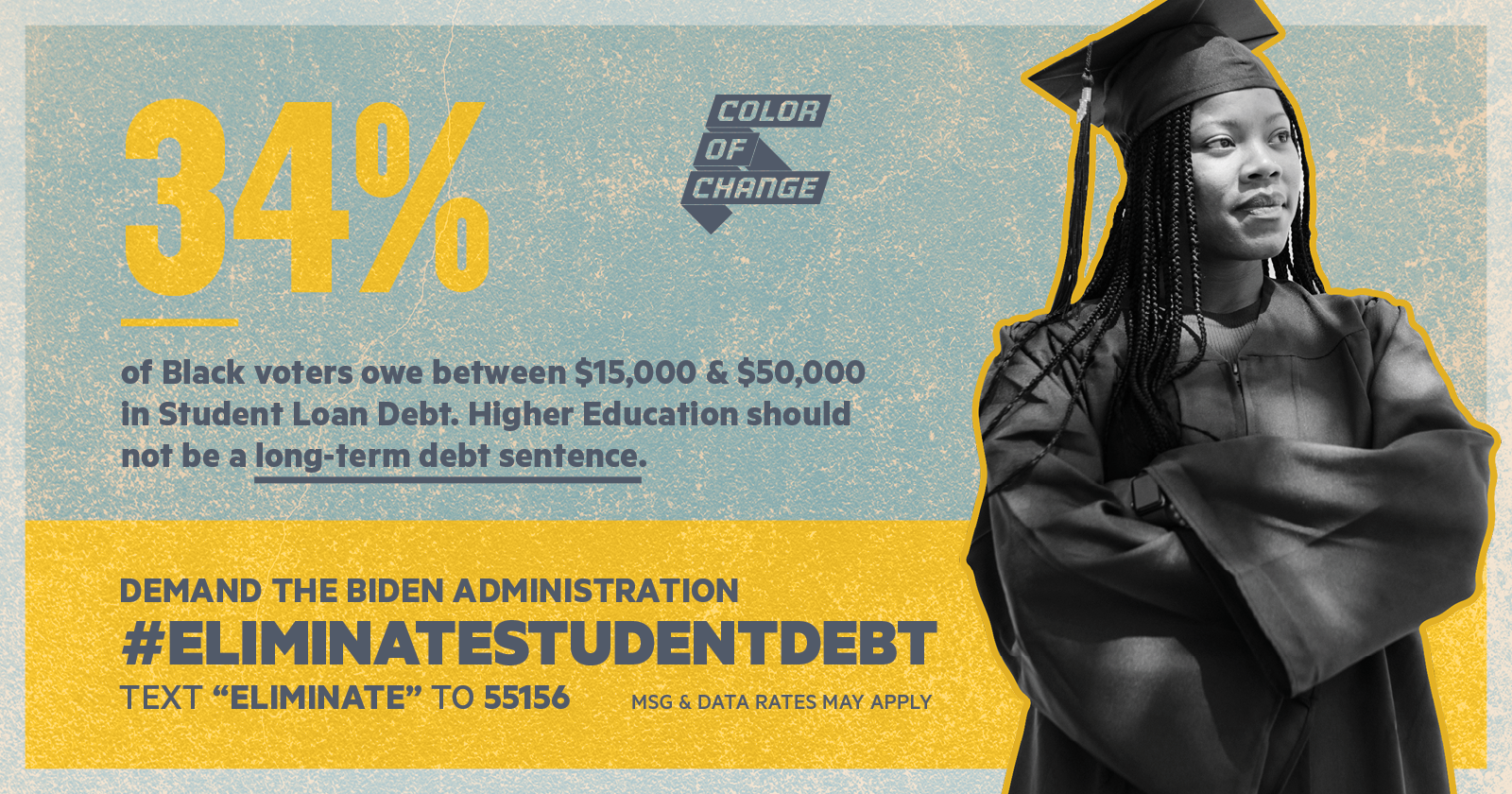 Now, more than ever, it is crucial that President Joe Biden eliminate student loan debt. Because of the ongoing COVID-19 health pandemic, communities across the country are struggling to make rent payments, car payments, and purchase necessary supplies. This has an even greater impact on Black communities; we are not only sacrificing the ability to pay for necessities, but we are also sacrificing opportunities to grow our personal savings, invest in our communities, and achieve our dreams — all in order to repay our student debt. 
For too long, Black people and communities of color have been trapped in lifelong, impossible-to-repay student loans. Over the years, the cost of a college education has increased exponentially, while becoming more and more necessary to acquire secure employment. The burden of student loans continues to grow heavier for Black students, who, as the result of racist policies established by our country, must take on astronomical amounts of debt just to get an education. Higher education is a valuable investment, but student loan debt too often becomes a barrier to financial security and severely limits wealth-building opportunities for those with student debt, including many Latinos and Indigenous, who struggle to pay. This means that our communities more often suffer the consequences of taking on student debt—hindering our ability to purchase a home or rent an apartment, save for retirement or periods of economic hardship, leave a job where we face racial discrimination, and/or meet basic necessities (ex: groceries, medications and childcare). 
But, the federal government has the power to change this. The government owns 90% of student debt and has the ability to ensure that higher education is both affordable and accessible to Black people. Join us in writing to President Biden to demand he implement meaningful student loan debt forgiveness— not just during the COVID-19 pandemic, but for good.